Young Coconut and Pineapple Soup, Gaeng Jued Saparot Mapraow On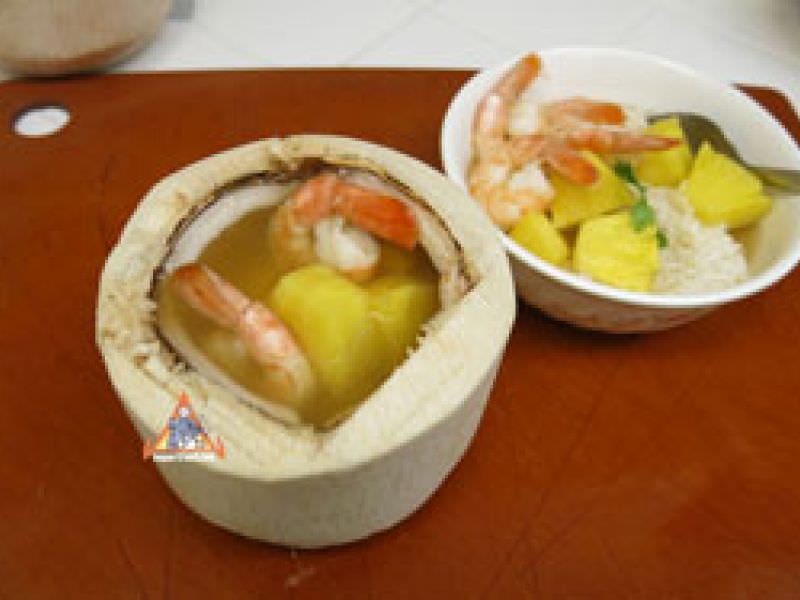 This delicious soup uses coconut water as a base rather than plain water or prepared stock.
Fresh young Thai coconuts are becoming widely available, along with packaged pure coconut water, both of which can be used to make this wonderful soup. Simply whack the top of the coconut to pop off the top. Each young coconut has at least one cup of water inside, so you'll need 3 coconuts to make this soup (or 3 cups of packaged pure coconut water).
We used shrimp here, and cooked the soup for just a few minutes. A good variant is to use chunks of pork belly fat. If you use pork instead of shrimp, first boil the pork in coconut water and spices for 10 minutes, then reduce heat and use a ladle to remove fat from he top of the soup. Then add pineapple and let simmer for half hour
Method for Young Coconut and Pineapple Soup, Gaeng Jued Saparot Mapraow On
Clean and cut one juice pineapple, refer to our guide on how to peel and slice fresh pineapple. We love 'Hawaiian Gold' or 'Royal Hawaiian' pineapple, as it's is very sweet and juicy -- perfect for this recipe.
In a mortar and pestle, pound garlic and whole white peppercorn into a fine paste, then set aside.
Add coconut water into a soup pot and bring it to a boil, then add garlic peppercorn mix, soy sauce, and palm sugar, and stir. Add shrimps and wait for about one minute, then add pineapple and reduce heat. Let it cook another 3 minutes. Remove from heat, and serve with Thai jasmine rice.
You can pour the soup back inside the young coconut for a nice presentation, or simply serve in a bowl of your choice. Enjoy!
Ready To Cut Into Smaller Pieces
Fresh Young Coconut Water
Young Coconut And Pineapple Soup

Reviews