Laksa Soup with Shrimp Balls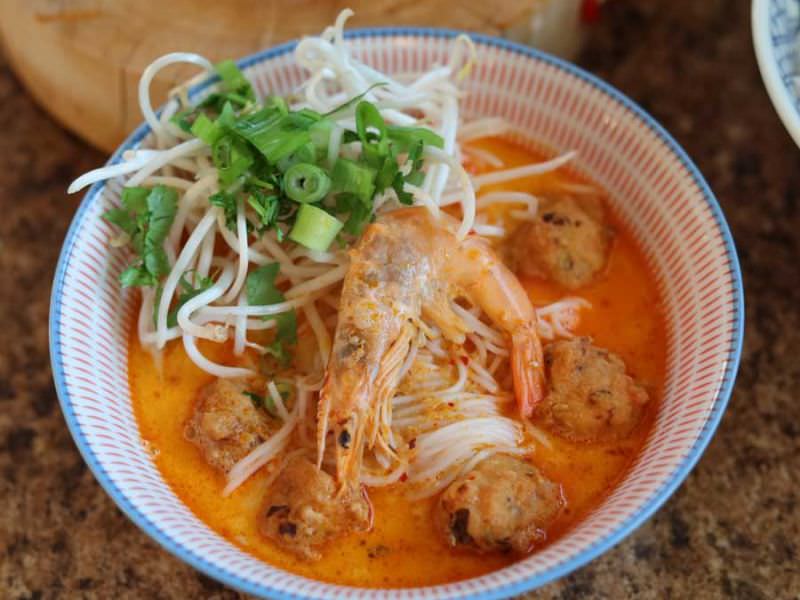 Made with our Laksa Paste from Por Kwan Thailand and our delicious home-made shrimp balls. Served over rice noodles, this is a complete meal full of flavor.
Method for Laksa Soup with Shrimp Balls
The recipe on your jar of laksa paste calls for water but we prefer making a quick stock instead. Add a pork bone to a pot of water, bring to a boil then quickly drain the water, rinse your bone, fill up the pot with water again. Add a piece of ginger. Bring to a boil then keep on a high simmer for 30 minutes or so.
As your stock is simmering, place uncooked shrimp in a mortar and pestle, pound together with a sliced spring onion and a small piece of fresh ginger. As it forms into a paste, add 1 tablespoon of rice flour (or a bit more to suit) and continue to pound until a smooth paste.
Using a spoon, drop balls of shrimp paste into a pot with oil over medium heat. Cook for just a minute or two and turn regularly so the shrimp balls lightly brown. Remove from oil and set aside. This recipe is enough to make about 10 shrimp balls.
In a new cooking pot, heat 2 cups of pork stock (or water if preferred) with one jar of Laksa Paste, and 1 cup of coconut cream. We used slightly less than the full jar of laksa paste, with good results. Bring to a boil.
In a serving bowl, place cooked rice vermicelli noodles, shrimp balls, bean sprouts and greens of your choice. You'll get two fairly large bowls.
Optional: We boiled a whole shrimp and placed on top, and added a bit of sliced beef we boiled also. See photos.
Enjoy!

Reviews