Thai Rice Flour, 16 oz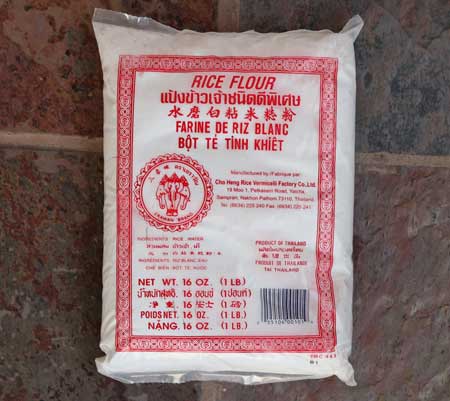 Add to cart
16oz - $3.89

Rice flour, sometimes called rice powder, is made from finely milled white raw rice and is used to make fresh rice noodles, pastries and sweets.
Rice flour is a staple food item throughout Southeast Asia. Used to thicken various Asian dishes.
Below are several delcious recipes in our recipe section that use rice flour, and you must try Khanom Krok which our favorite.
The general purpose of rice flour is similar to flour, and it's very fine like powder (finer than wheat flour). In particular, it's an important ingredient in various desserts. We also offer glutinous rice flour.
All natural. Product of Thailand.
---
---
ImportFood.com Thai recipes using rice flour
Thai Coconut Pudding, "Khanom Krok"
Golden Thai Pastry Cups, "Kratong Tong"
Thai Chicken Fried Hat Yai Style, "Gai Tod Hatyai"
Fried Thai Peanut Cookie, "Tua Tod"
Chicken in Pandan Leaves, "Gai Hoh Bai Toey"
Kanom Dok Jok, Thai Flower Cookie
Thai Sticky Rice Steeped in Coconut Milk, "Khao Neeo Moon"
Drunkard's Noodles and Chicken with Tofu, "Gai Pad Ki Mao"
Thai Sweet And Sour Fish, "Kraphong Khao Priao Wan"
Thai Noodle Soup With Pork, "Yam Wunsen Sai Mu"
Thai Red Pork With Rice, "Khao Mu Daeng"
Fried mung bean flour balls with tamarind/garlic sauce, "Bayia"
Rice Pancake, Kao Kreap Bak Moh