Northern Thai Sausage, 'Sai Oua'

Northern Thai Sausage, 'Sai Oua'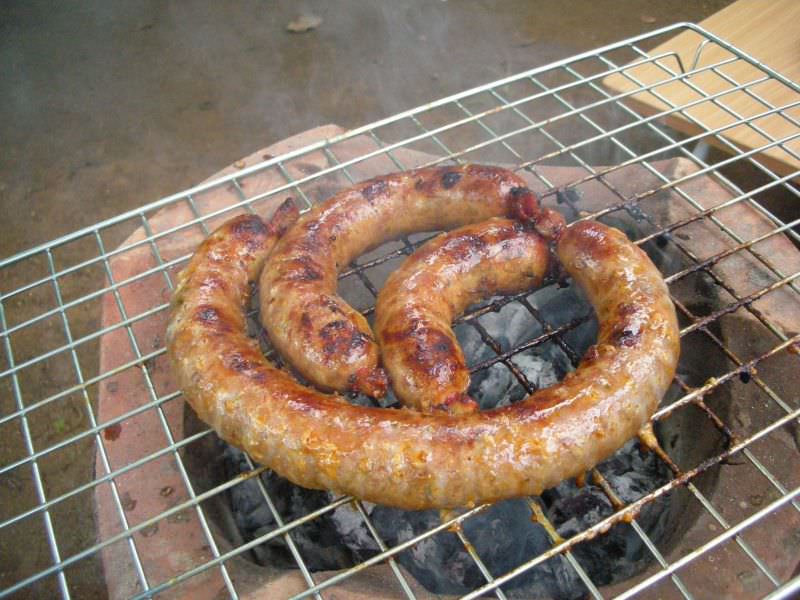 Northern Thai sausage is easy to make, and the mix of ingredients leads to a spectacular result. We would encourage you to make this with ground pork or, for any hunters reading, try this with local elk, deer, wild boar, or other natural meat that you might have. Also watch our video (below left) showing how it's made.
You can't go wrong with this sausage. Please be sure to leave us a comment using the form below if you make it, and share how it turned out.
We also have a recipe for Esan-style Thai sausage, sai grok.
Method for Northern Thai Sausage, 'Sai Oua'
In a mortar and pestle, pound together lemongrass, kaffir lime leaves, and galangal until fine.
In a large mixing bowl, add pork and the rest of the ingredients, mix well. Mix by hand a glove. Do not knead, make sure the pork fat stays in shape.
Tie one end of the pork casing with string then use a funnel (see pictures and video below) to force the mixture into the casing. Prevent air bubbles from forming, and do not over-stuff it. Tie the other end. Now your sausage is ready to cook.
For best results, use a bamboo skewer to poke holes in the casing. Poke it before and during the cooking process, this will make sure that the sausage doesn't break while cooking. Grill on low heat, keeping watch. Flip and poke until golden brown, dry and aromatic (about 25 to 30 minutes (depending on the size of the sausage).
Northern thai sausage sai oua

Reviews