Chicken Stuffed Sticky Rice, 'Khao Niao Sod Sai Kai'

Chicken Stuffed Sticky Rice, 'Khao Niao Sod Sai Kai'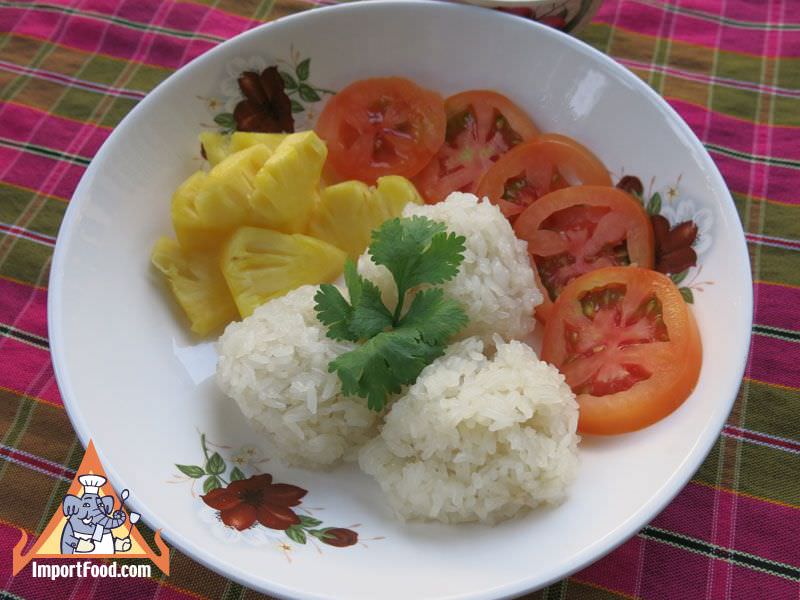 A fancy dish that is sure to please everyone who tries it! We used our Thai Stacked Steamer which works great.
Method for Chicken Stuffed Sticky Rice, 'Khao Niao Sod Sai Kai'
In a large mixing bowl, mix together the chicken, egg, tapioca flour and all the seasoning ingredients with spring onions and corianders except the sticky rice, then form into 1/2 inch balls in diameter.
Surround each ball with a layer of sticky rice. Line the steamer layer with lettuce, cabbage or other seasonal green leaves, rub with the cooking oil thoroughly. Place the balls on the leaves, spacing well apart about 1-2 inches to prevent them from sticking to each other. Steam over vigorously boiling water for about 20 minutes until cooked. Remove.
For serving, arrange on a serving plate together with assorted fresh vegetables and a chili sauce. Serve immediately with fish sauce, sugar, leaf lettuce, tomatoes, fresh Thai chile pepper, and pineapple.
Chicken Stuffed Sticky Rice
Chicken Stuffed Sticky Rice
Chicken Stuffed Sticky Rice
Chicken Stuffed Sticky Rice

Reviews