Chicken with Holy Basil Paste, 'Gai Pad Krapao'

Chicken with Holy Basil Paste, 'Gai Pad Krapao'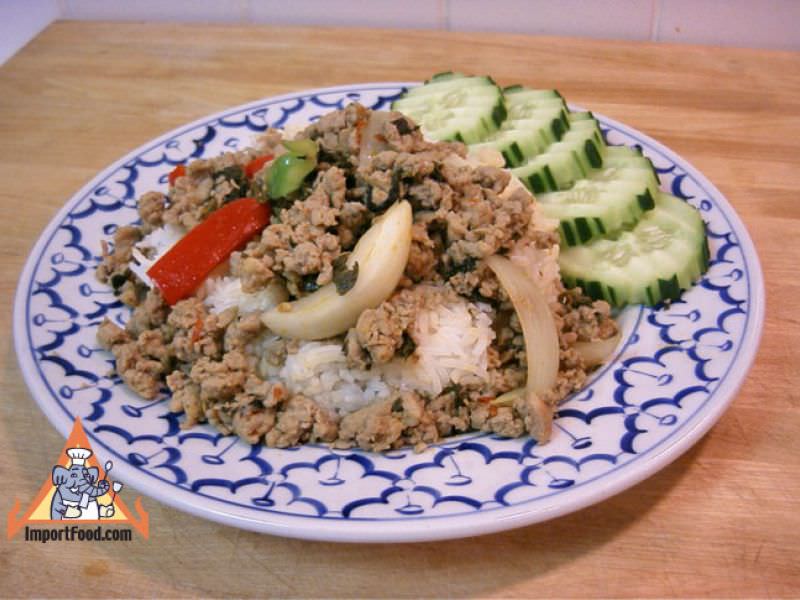 Fresh holy basil leaves are very delicate and typically not possible to find in any markets outside of areas with tropical weather. Our chile paste with holy basil has become one of our most popular products though, as the holy basil flavor is prominent in this simple inexpensive product ready-made-for-stir-fry. Here we use it to make an authentic Gai Pad Grapao.
Method for Chicken with Holy Basil Paste, 'Gai Pad Krapao'
Heat chili paste in a wok over medium high heat until the aroma of the chili paste rises from the wok. Add the chicken/meat of your choice. As the meat cooks, use a cooking utensil to break it apart into small pieces, until the meat is fully cooked. Add the vegetables and and the seasoning, oyster, fish sauce, and sugar. Turn the heat up to high and stir-fry for three minutes longer, until everything is heated but the vegetables remain crisp. If the dish appears to be too dry, water may be added. Remove from heat. Serve this delicious dish over fresh steamed jasmine rice. Sliced cucumber may be added as a garnish. Enjoy!
Variants
You can experiment by replacing the meat with hard tofu marinated in a mixture of sweet soy, fish sauceand ground ginger, soy, or a vegetable mix of your choice (we like to mix broccoli and cauliflower florets, with julienned carrots), to make a vegetarian gai pad-gaprao.

Reviews