Thai Bean Thread Noodles, Kaset 14 oz
Thai Bean Thread Noodles, Kaset 14 oz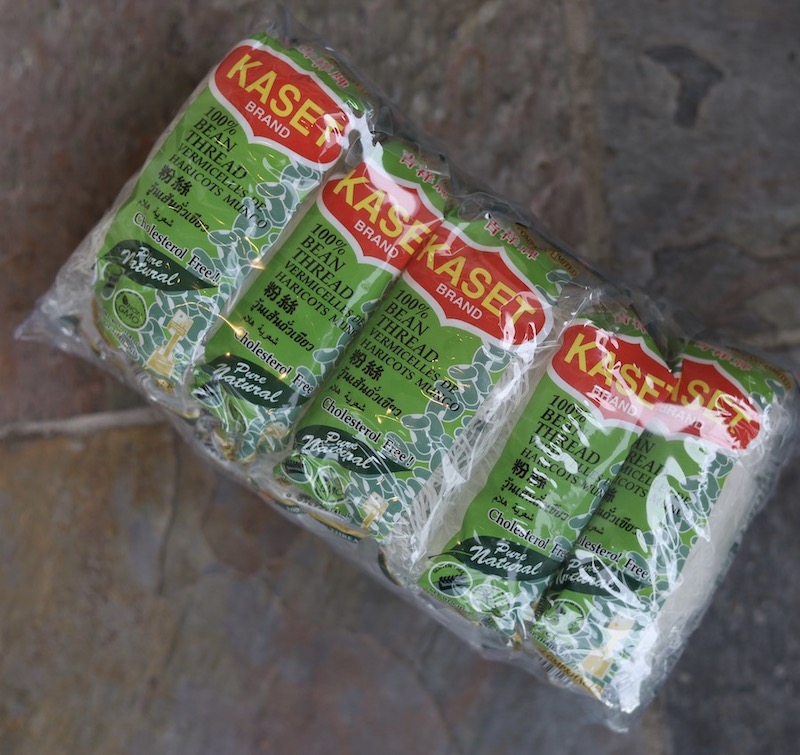 Add to cart
$7.79

Bean Thread Noodles or Mung Bean Vermicelli (also known as glass noodles or cellophane noodles) are not made from a grain flour but from ground mung beans. Nowadays, however, many merchants offer inferior quality glass noodles made with flour not from mung beans.
We have the very best quality, original bean thread from Thailand "Kaset" brand, made from the best green mung beans and all natural. You get a bundle of 10 individual packs (individual pack shown here) of 1.4 oz each.
Once the noodles are soaked they become soft and slippery, springy and translucent. Variously called "silver bean thread noodle" or "Woon Sen", they're flavorless and take on the taste of their accompanying sauce or broth. They should be soaked in warm water for about 7 minutes before use.
Ingredients: green mung bean, water. Product of Thailand. For a sweet Thai dessert recipe see our mungbean flour and whole green mungbean.
New Video: Thai Street Vendor Using Bean Thread Noodles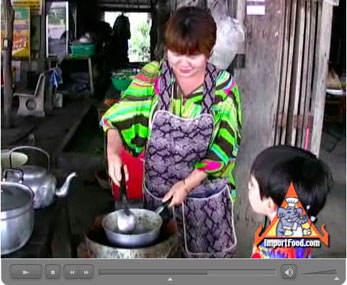 We recommend bean thread in the following ImportFood.com Thai recipes:
---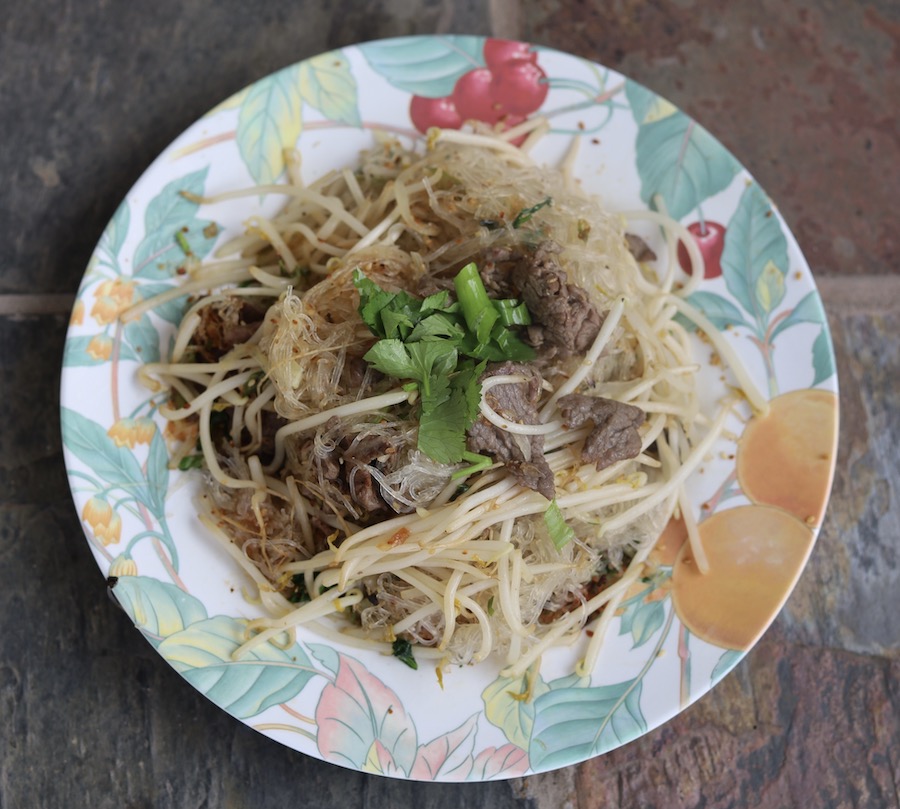 Thai Bean Thread Beef
Bean thread noodles are healthy and have an enthusiastic following. Here we show how to prepare them quickly in a delicious stir-fry made with sliced beef, and an alternative style made with pork and prawns.
---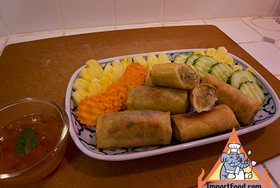 Thai Fried Spring Rolls, 'Poh Pia Tod'
Fried spring rolls are on the menu at Thai, Chinese, or any Asian-style restaurant, and we think this style using genuine Thai beanthread noodles is the best. This is classic snack food that can also fill you up. Make a large batch if you'd like. After cooking the rolls, set them out in the open air without covering them up, and they'll stay crispy.
We also have
Recipe for Fresh Salad Rolls
Recipe for Fresh Spring Rolls
Recipe for Fried Spring Rolls
---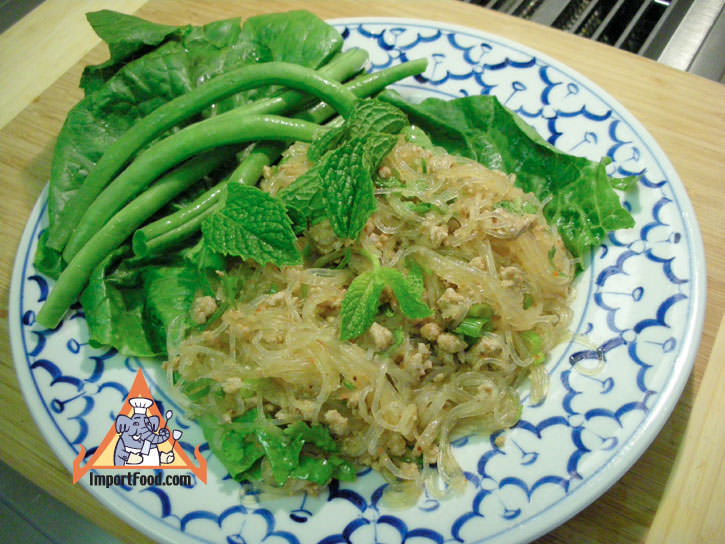 Larb with Glass Noodle & Minced Pork, 'Larb Woonsen Moo Sap'
If you like spicy Thai food, chances are you will love larb. This is a really tasty summer salad especially if served over a bed of leafy greens together with fresh green beans. In Thai language, larb is in the category of salad. Often enjoyed with beer--ask an alcoholic in Thailand what food they like with a strong Thai lager beer, and they might mention larb. Perhaps the most common is larb gai (chicken) or pork. It's a one-dish meal or it can be served with rice. We like this version with beanthread noodles (also called glass noodles). Made from ground mungbean flour, these clear noodles soak up the flavor of the spices. We also have a recipe for vegetarian larb woonsen. New Recipe: Larb Woonsen in Spring Roll Wrapper.
---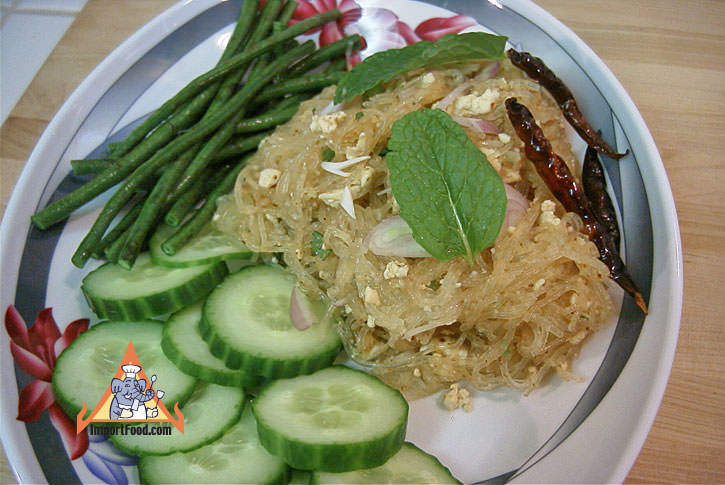 Thai Vegetarian Larb Woonsen, 'Larb Woonsen Jae'
We find that it's difficult to enjoy true vegetarian Thai food because so many recipes use fish sauce; however, we absolutely love this vegetarian larb recipe. It does take time to prepare but the result is both nutritious and delicious. Vegetarian or not, you'll love this elegant recipe too. We also have a non-vegetarian recipe for larb woonsen.
---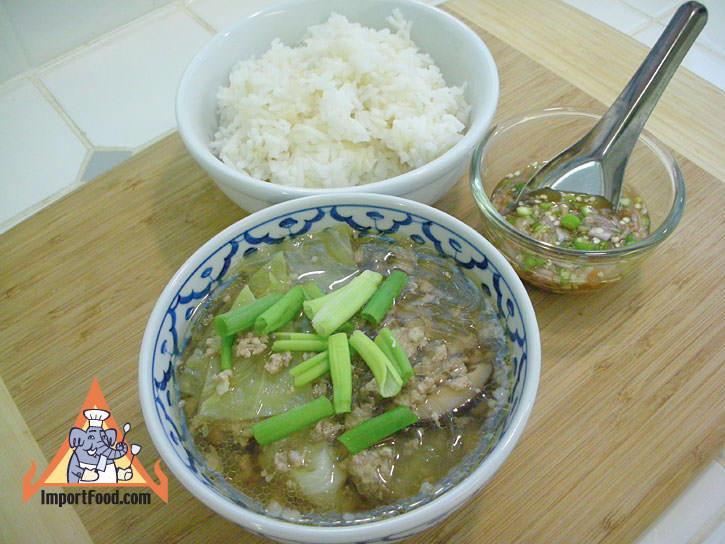 Bean Vermicelli Soup with Pork, 'Tom Jude Woonsen'
The leading ingredient in this recipe is the bean thread vermicelli, also called glass noodles. Made from ground mungbean flour, these clear noodles soak up the flavor of the broth. The soup is mild, rich and unique. Good for the whole family, as it does not have any chile heat unless you add nampla prik separately (read below). We love it with real chicken stock.
---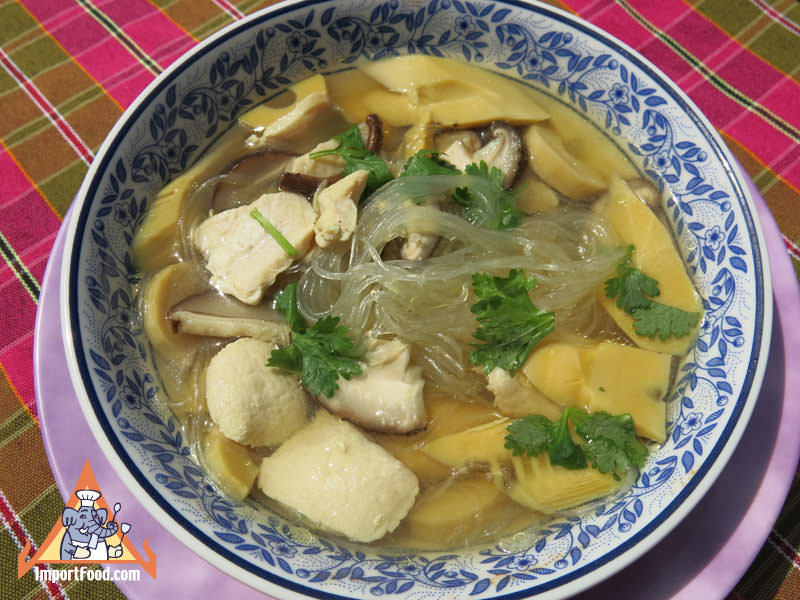 Thai Chicken Soup, 'Kaeng Djuut Wunsen Gai'
This uses the light semi-transparent vermicelli style noodles known as wunsen in Thai. Note that there are two types of soup in Thai cuisine: one type the Toms (tom kha gai, tom yam etc) are designed to be eaten with a meal. The other style, known collectively as kuiteao nam (pronounced roughly "gw-eye-tee-ow nam") or "wet noodle dishes", are a popular form of fast food in Thailand. They form a full meal and are regularly eaten for everything from breakfast to early dinner, This kaeng djuut is a kuiteao nam style "luncheon" dish. In parallel with the kuiteao nam dishes there is a wide range of kuiteao haeng (dry noodles) dishes.
---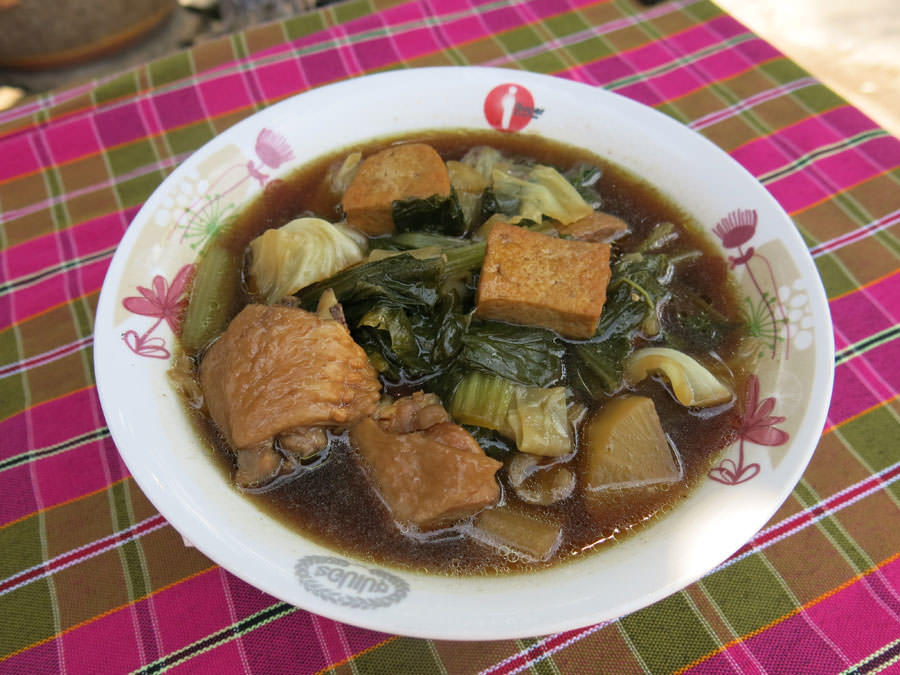 Thai Vegetable Stew, 'Tom Jabchai'
This is sometimes called "Chinese" vegetable stew in Thailand, because the chosen vegetables are usually of Chinese origin. You can make substitutions, and some recipes for this stew call for as many as 10 different vegetables. You do need at least 4 to get the variety of tastes and textures required, but if the produce market yields more on the day, then you can indeed use more (keep the overall quantity about the same). Though called a vegetable stew, this is by no means a *vegetarian* dish. It contains a substantial amount of meat. The essential flavor of the dish comes from the belly pork. If you prefer you can use a pound of belly pork and omit the poultry, but you shouldn't omit the pork altogether.
This is a "one plate" meal - a single dish forming the entire meal (as opposed to the more usual dining style in Thailand with several contrasting dishes).
---