Thai Vegetarian Larb Woonsen, 'Larb Woonsen Jae'

Thai Vegetarian Larb Woonsen, 'Larb Woonsen Jae'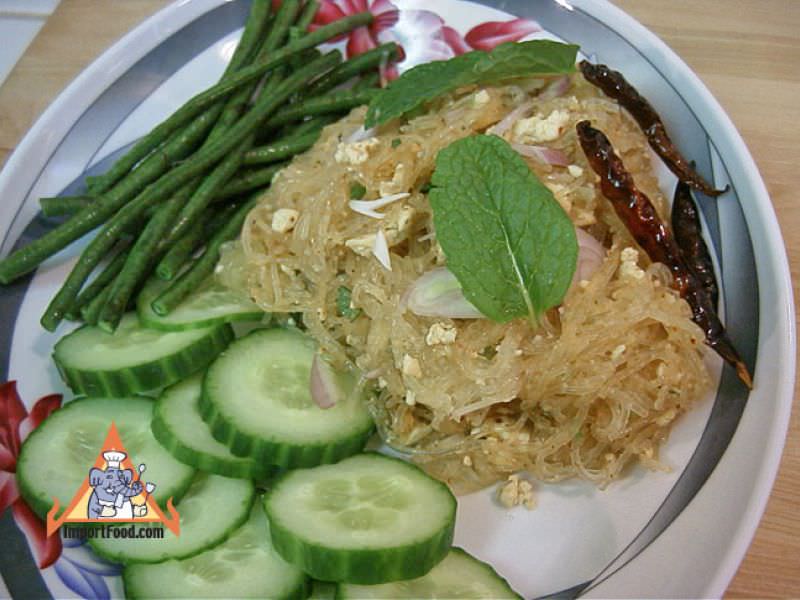 We find that it's difficult to enjoy true vegetarian Thai food because so many recipes use fish sauce; however, we absolutely love this vegetarian larb recipe. It does take time to prepare but the result is both nutritious and delicious. Vegetarian or not, you'll love this elegant recipe too. We also have a non-vegetarian recipe for larb woonsen.
Method for Thai Vegetarian Larb Woonsen, 'Larb Woonsen Jae'
Soak bean thread noodle in lukwarm water for 20 minutes (or a bit longer) until the noodles are soft, then cut into smaller (about 3 inch) pieces using scissors. While soaking, work on the rest of the recipe.
Prepare the sesame seeds: in a medium sized wok fairly hot, and add a couple of tablespoons of white sesame seeds. Keep in movement until the sesame seeds start to turn golden brown. Remove from the heat and allow to cool. Grind it into a paste with a mortar and pestle.
Prepare garlic oil: finely chop 5 cloves of garlic, add to small saucepan together with a few tablespoons of oilive oil. Over medium heat, cook the garlic until it starts to turn brown. Remove from heat quickly, let cool, pour this into a glass jar and set aside. In the same saucepan, add a bit more oil then fry a few whole dried chile over medium low heat. These burn easily, so be careful. After a minute or two remove the chiles and set to dry on a paper towel.
Rinse your tofu, then cut into large diced pieces. Add tofu to boiling water with a bit of salt. Let it cook until the tofu floats to the surface (a few minutes). Use a skimmer to remove the tofu and put it into a large bowl. Leave the hot water alone, it will be used to cook the noodles later. Let the tofu cool down, then mash this (as shown below). A fork or potato masher works well.
Saute the mashed tofu in a skillet with 1 tablespoon of garlic oil. Add 1 tablespoon thin soy sauce. Saute for a few minutes then set aside.
Now, prepare your larb sauce. Mix 1/2 cup thin soy sauce with lime juice, brown sugar and ground chile powder. Stir unti the sugar dissolves. Set aside.
Add the bean thread noodles to the pot of boiling water, cook for 2 minutes. Drain and put the noodles in a large bowl. Add 1 tablespoon garlic oil. Mix well, gently. Next, add tofu and mix. Then add shallot and larb sauce. Mix well. Add khao koor, sesame paste, green onion, cilantro, mint leaf, and mix well.
Transfer to serving dish, and garnish with fried garlic and whole dried chile. Serve with cucumber and green beans. The result is an exotic, delicious, authentic and very healthy Thai meal.
Vegetarian larb woonsen larb woonsen jae

Reviews