Thai Sriracha Sauce

Originally developed in the city of Sriracha on Thailand's eastern seaboard, sriracha sauce is a hot, spicy dipping sauce common throughout Thailand. There are various brands offering different levels of heat, but they're generally similar. In recent years a new "sriracha sauce" is produced in the United States with great popularity. We've carefully selected imported brands to offer in our shop, and we can offer the American version. Please see comparison of the different sauces below, and choose what's best for you.
---
Shark Brand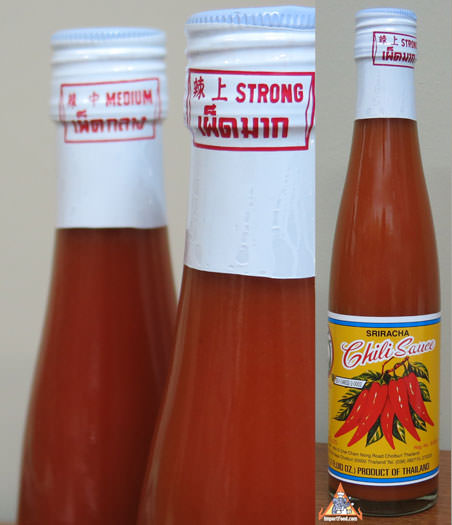 This is our favorite sriracha sauce because it's an original classic that's been sold for years in Thailand.
Shark brand is made in the Sriracha region of Thailand. It's the real thing--what the Thai people eat--and it's all natural without preservatives or artificial colors. Shark brand has a good mix of chile heat, and sugar/garlic/vinegar overtones to make it tangy and a bit sweet.
Shark Sriracha Featured in GQ Magazine "Secret Weapon That Chefs Can't Live Without".
Packed in a nice large glass bottle. Shark is far superior to the plastic bottle stuff which includes preservatives and has an unnatural heavy pepper taste.
We now have medium flavor, in addition to "Strong" which is what we've offered for years.
Medium flavor has the taste of Thai chiles but low heat.
Strong offers bold chile heat, somewhat like tabasco, but tangy and a bit sweet too. Use plenty of it.
All Natural. Ingredients: chile, water, sugar, garlic, salt, vinegar.
Product of Thailand.
---
Sriraja Panich Brand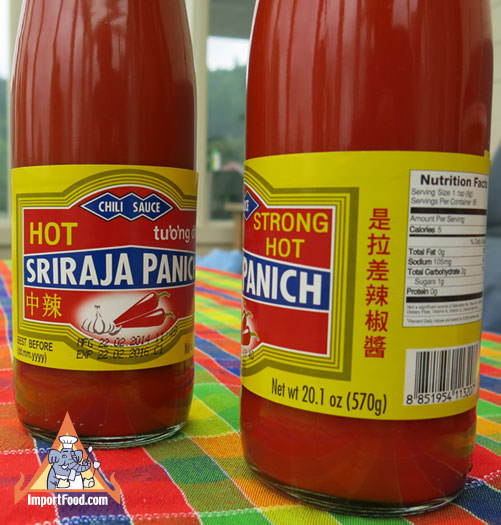 Sriraja Panich brand is packed in a tall 20 oz glass bottle. It's probably the most common sriracha in Thailand, used far and wide throughout the country and well-known by all.
This item is most likely going to be discontinued. Of course the sauce will be fine for much longer than that date, as other brands put much longer dates on similar product. If you like Sriraja Panich, this might be considered a "Final Call" to order before we run out and may not see it again for a very long time.
Flavor is very rich, spicy, slightly fruity, just right for a sriracha. We know you will love it.
Sriraja Panich brand is packed in a large 20 oz glass bottle for generous use. Made by Golden Mountain.
Ingredients: spur chili, water, sugar, garlic, salt, acetic acid.
No Preservatives. No Artificial Coloring. No MSG.
Product of Thailand.
---
Huy Fong brand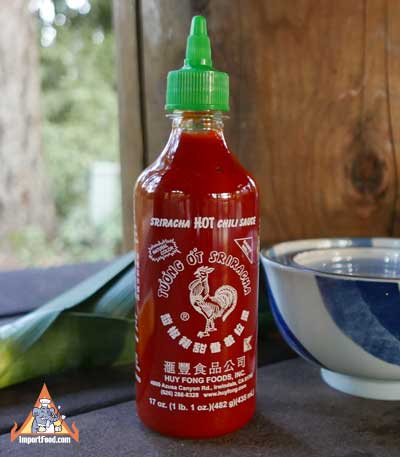 Made in the United States, this is the brand which has become popular and served all over the country. This sauce is very strong and heavy to chile flavor, a bit like eating a high-heat raw chile pepper. Despite the popularity of this brand, it's not what a Thai person might think is sriracha sauce. The variety of chile used gives the flavor a very deep, hot pepper taste.
The flavor is overwhelming in our opinion and might take away the flavor of any accompanying food. If you want very high heat then this is the choice for you. Packed in a plastic squeeze bottle. Ingredients: chile, sugar, garlic, salt, distilled vinegar, potassium sorbate and sodium bisulfite as preservatives, and xanthan gum.
Add to Cart 17oz - Huy Fong Brand - Out of Stock
---
Related Product: see our fresh red chile sauce
---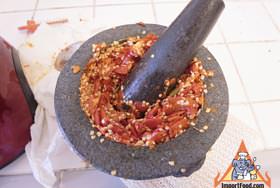 Home Made Sriracha Sauce
Make your own all natural hot sauce that's free of preservatives using the best fresh ingredients!
On a seasonal basis, usually May - September, we have beautiful fresh red chile peppers that are loaded with a mature, strong heat but also some notes of fruity sweetness. These are perfect for making your ownsriracha sauce.
This is a lot of fun to make, because you can adjust the flavors at the end to suit your preference. The hot sauce starts out very, very hot, so be careful. If you prefer a milder sauce, use 50% red bell peppers, jalapeno, or a more mild fresh pepper.
---
---
Try Sriracha Sauce in These Recipes
Spicy Thai Chicken Wings, "Peek Gai Nam Daeng"
Sun-Dried Beef, "Neua Dad Deo"
Thai Cashew Chicken, "Gai Pad Med Mamuang Himaphan"
Thai Sour Fish Soup, "Kaeng Som Phak Bung Phrik Sod Kab Pla"
Stir Fried Tamarind Shrimp, Goong Pad Nam Makham Piek
Panko Shrimpcakes with Chile-Lime Sauce
Sweet Chili and Root Beer Baby Back Ribs
Isan Style Sausages (Thai Hamburgers), "Sai Grog Tod"
Also see a street vendor in Thailand using sri racha to make Pad Thai