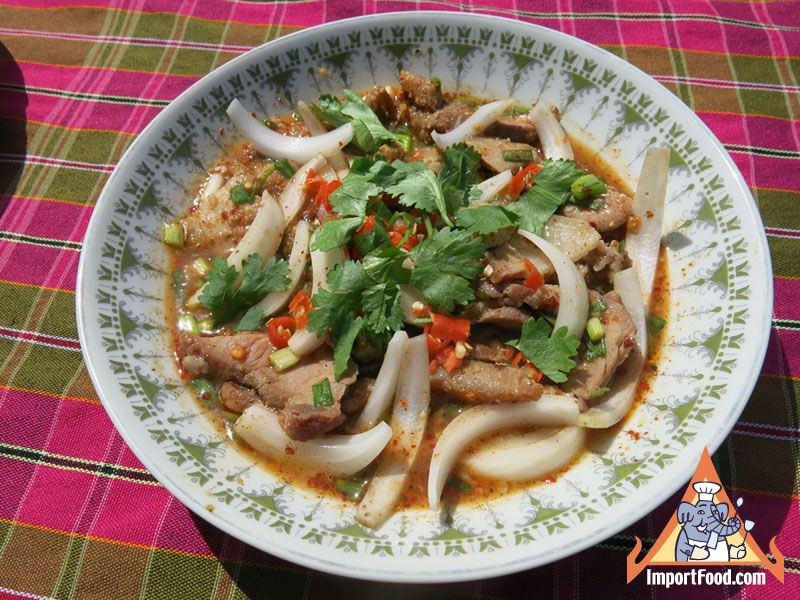 Hello again and thanks for visiting ImportFood.com. Today we can offer for the very first time pure Thai coconut sugar in paste form, the "Holy Grail" Thai sugar that we've never seen outside of Thailand before. This nearly-liquid sugar paste is perfect for som tum and other Thai sauce dishes that are prepared without cooking.
We also have a brand new Northeastern Thai recipe, Tom Yum Cubes are back in stock, fresh kaffir lime leaves are free when you buy a produce kit, and we've re-introduced the Tom Kha Combo Pack for our brand new fresh pack of tom kha that was just finished last week.
See it all below. Thanks for visiting.
---
NEW Thai Recipe: Northeastern Thai Salad
Barbecue pork, beef or the meat of your choice then marinade and serve with a combination of fresh vegetables and spices. This is our newest Thai recipe, come take a look:
---
Feature Recipe: Som Tum
Now that we finally have pure coconut sugar paste (see below) it's only fitting to feature som tum, which should always be made using that type of sugar.

---
NEW: Pure Coconut Sugar (paste)
Here we are finally able to offer, for the first time, pure sugar from the coconut palm that has no cane sugar added. In a modern vacuum sealed plastic package, this palm sugar has a soft paste consistency similar to peanut butter, and it's ideal for many Thai recipes.
Pure coconut palm sugar is prized by top chefs for certain recipes, especially Som Tum because som tum is prepared cold so palm sugar cakes can't fully melt in the mortar (the cakes melt quickly when cooking).
This is brand new stock as fresh as can be, and it's a big 2.2 lb pack

---
​Amazing Elephant Tom Kha - Combo Pack is Back
Last week we made a brand new batch, a small batch all cut by hand using fresh (not frozen) ingredients. We are proud of the final result -- taste is excellent. Perhaps our best batch ever.
Back by popular demand is the Combo Pack (5 pouches each style) for the same low price we offered before when it was on special.
---
Back in Stock: Knorr Brand Thai Soup: Tom Yum Cubes
This is a very tasty bouillion cube for making the popular Thai tom yum soup made by premium quality Knorr brand. Difficult to keep in stock, and we only have a small quantity. Fresh as can be, it just arrived from Thailand.

---
Special: Free Fresh Kaffir Lime Leaves
For newsletter readers, one free pack of fresh lime leaves ($14.95) when you order our Fresh Thai Produce Kit, already a great value: $26.95 includes 2 Day Shipping. Go to our Fresh Thai Produce page for details.