Thai Chicken and Veggies, 'Gai Pad Prik'

Thai Chicken and Veggies, 'Gai Pad Prik'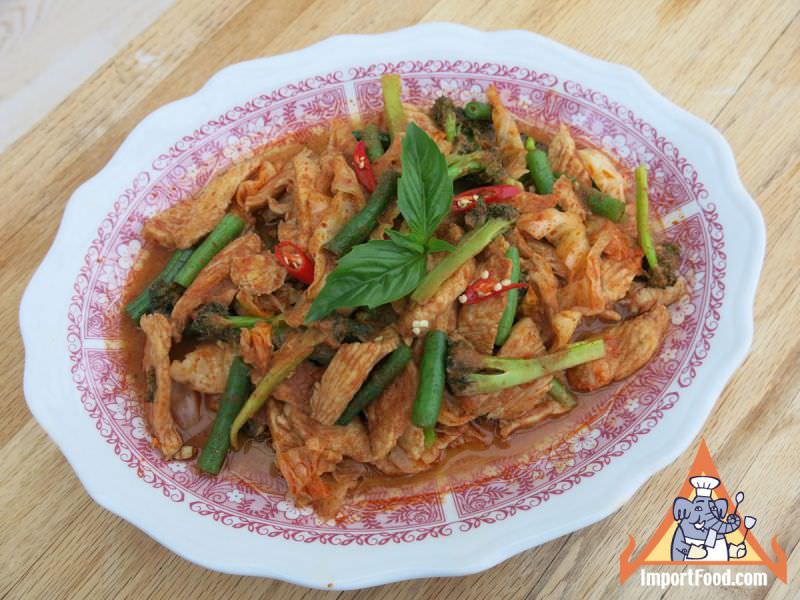 gai = chicken
pad = stir-fried
prik = chilli
Unlike gai pad khing, which is cooked at smoking point, this dish is cooked at medium high - any more heat and the vegetables will be destroyed. A more appropriate name would be Gai Pad Prik Gaeng, because this uses red curry paste.
As with gai pad khing this dish can also be made with pork or beef.
This is a good dish for those who don't like really hot food, as it can easily be prepared with less curry paste.
Method for Thai Chicken and Veggies, 'Gai Pad Prik'
Stir fry the curry paste for a short while, until the mixture becomes aromatic, and a little oil is driven out of the paste by the cooking process. Add the chicken and stir fry briefly, until it just begins to turn whitish.
Add the remaining ingredients, stir until it is heated through, and taste for flavor balance. Note: add the green peppercorn last, as it does not need a lot of cooking time, and the sprigs should be kept in tact as much as possible, them place them on the top of everthing.
Serve with steamed Thai jasmine rice, and garnish with lime and Thai basil leaves.

Reviews