Thai Fried Rice with Chicken, 'Khao Pad Namprik Pao Sai Kai'

Thai Fried Rice with Chicken, 'Khao Pad Namprik Pao Sai Kai'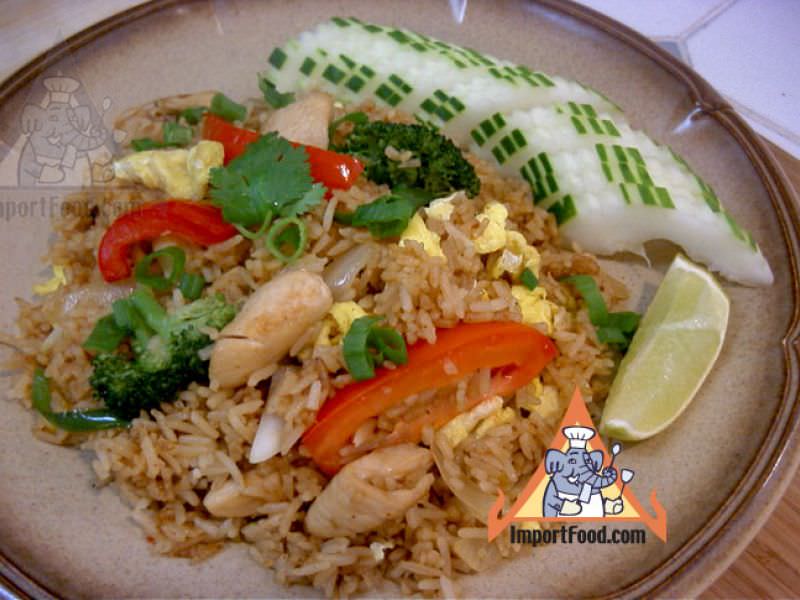 Here is a basic fried rice commonly made by street vendors and fine restaurants alike. It's best to use day-old rice that's been cooked and sitting at room temperature (just leave it in the rice cooker for best results). We add roasted chile paste which gives a perfect, authentic flavor which is just a tad spicy.
Ingredients
For 4 Person(s)
Ingredients for Step 1
Ingredients for Step 2
2

Eggs, Lightly Beaten, with a pinch of salt

1

Tablespoon

Finely Chopped Garlic

5

Tablespoons

Vegetable Oil

1/2

Onion Coarsely Sliced

1/4

Cup

Sliced Fresh Serano or Thai chile peppers (seeds removed)

1

Tablespoon

Golden Mountain Sauce

2

Tablespoons Fish Sauce

1 1/2

Tablespoon Roasted Chile Paste (namprik pao)

1/2

Teaspoon

Salt

1

Tablespoon Lime Juice

1 1/2

Teaspoons

Sugar

1/2

Teaspoon Thai Pepper Powder

1/2

Cup

Broccoli, Cut Into Small Florets

1

Tomato, Cut into Wedges

2

Tablespoons

Green Onion, chopped
Buy ingredients for this Recipe
Method for Thai Fried Rice with Chicken, 'Khao Pad Namprik Pao Sai Kai'
Toss chicken with tapioca flour and Golden Mountain sauce, and marinade for 10 minutes or a bit longer.
Heat 2 tablespoons of oil in a wok or skillet over medium heat. Add eggs and let it cook, flip it over and with a spatula chop the egg up into smaller pieces. Transfer egg to a plate and set aside.
Heat remaining oil in wok, add garlic and saute until golden brown. Add chicken and stir-fry briefly over high heat for 3-4 minutes. Add onion, chile pepper, and brocoli. Stir well. In a separate bowl, pour the next 7 ingredients onto the cooked rice. Gently add all of that to the wok, and stir it carefully to avoid smashing or breaking the rice. Throughly mix everything. Add tomato, green onion, and egg, then stir fry for just a brief minute or two. Remove from heat. Serve garnished with sliced cucumber. Enjoy!
Fried rice with chicken khao pad namprik pao sai kai
Rice with seasonings before frying

Reviews