Thai Sweet Chilli Sauce, Mae Ploy Brand
Thai Sweet Chilli Sauce, Mae Ploy Brand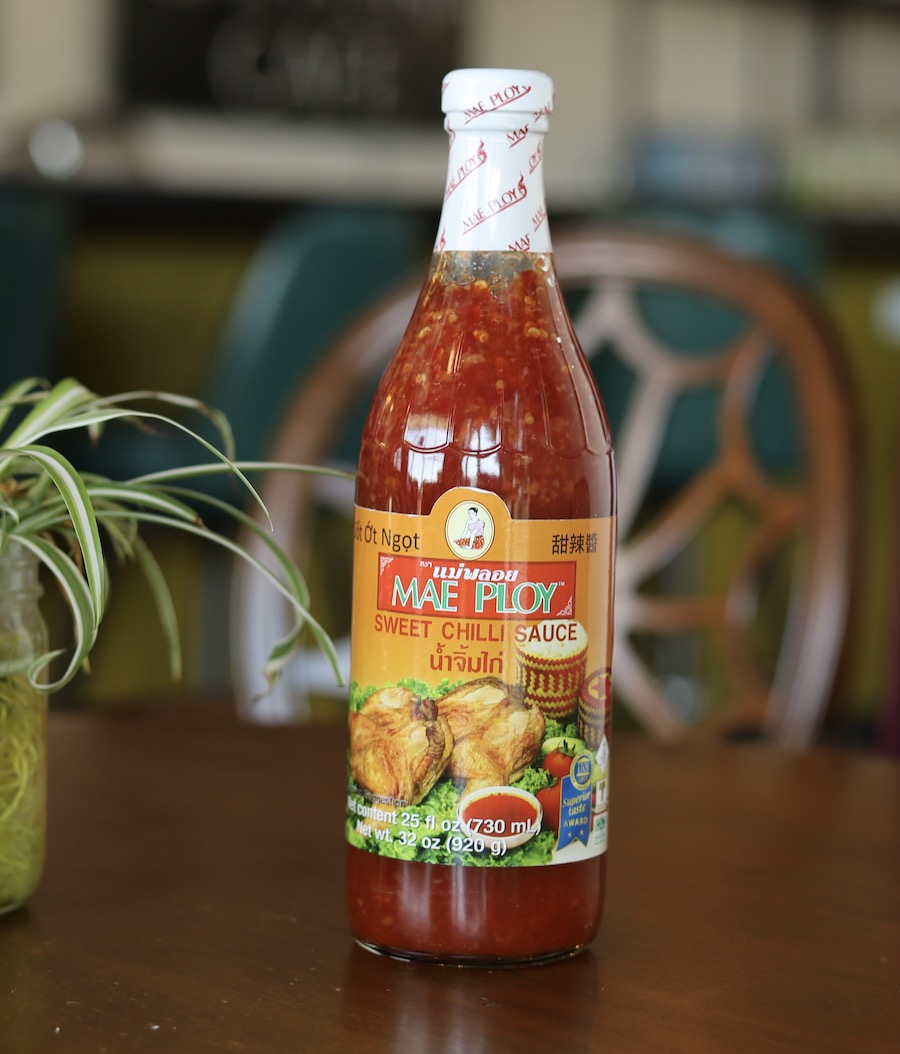 Add to cart
10oz - $4.89

This distinctive, slightly sweet chili sauce is ideal with chicken as well as seafood, vegetable dishes and as a dipping sauce for spring rolls & dim sum.
Mae Ploy is a fairly thick sauce, and if you've ever purchased barbeque chicken from a street vendor in Thailand, it was undoubtedly served with this sauce.
Packed in a nice glass bottle (large and small).
We also sell the original, imported from Mae Pranom
Ingredients: sugar, water, pickled red chilli, vinegar, garlic, salt, xanthan gum. No preservatives and no artificial coloring. Product of Thailand.
Similar Product: Mae Pranom brand (slightly more chile heat)
Street Vendor Video: How to make a sweet chile dipping sauce
We offer the following premium quality MAE PLOY SAUCES
---
Reviews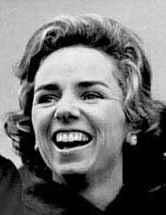 You might find this of interest: Mrs Robert F Kennedy (Ethel Kennedy) is a repeat customer of ImportFood.com, purchasing this sauce in the 10 oz bottle. We emailed her asking for a personal endorsement, and she promptly responded with:
Mrs Kennedy Loves This Sauce.
If it satisfies the refined taste of Mrs Kennedy you too might like our Mae Ploy sweet chile sauce.
I have been using Mae Ploy Sweet Chili Sauce for years while guiding in rivers in Alaska. I cook fresh salmon right on the river and my clients have raved about this sauce. So far, 25 Chefs and numerous clients from all over the world now use this sauce in their recipes. Thanks alot for making it available to me, as I had a hard time locating this item, once I was introduced to it.

John Bell, Katmai Lodge - Alaska
---
We recommend Sweet Chilli Sauce in the following ImportFood.com Thai recipes
Sweet Chili and Root Beer Baby Back Ribs
Stuffed Chicken Wings, "Peek Gai Yat Sai Goong"
Thai chicken stir-fried with green curry, "Gai Pad Khiaowan"
Spicy Fish Cakes, "Tod Man Pla"
Thai Chicken Fried Hat Yai Style, "Gai Tod Hatyai"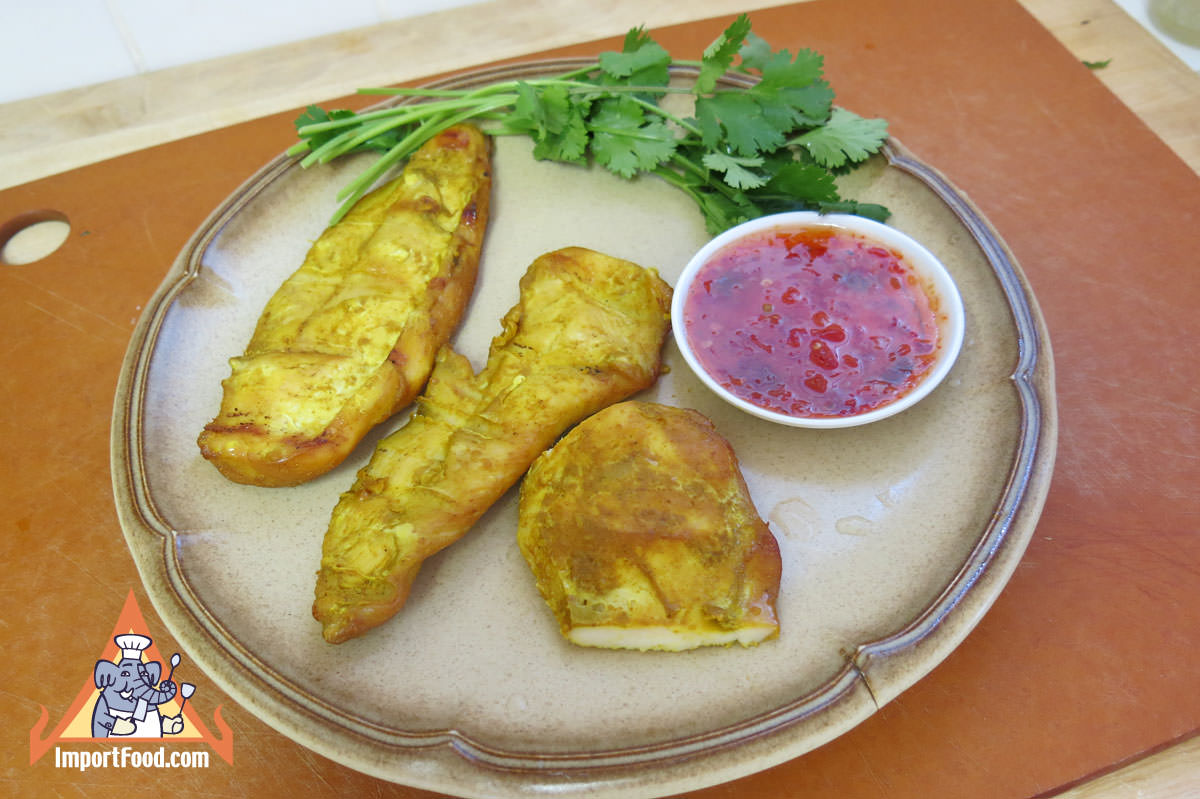 Thai Barbecue Chicken, 'Gai Yang'
Gai yang translates to "barbecued (or grilled) chicken", and can be prepared in many different ways, we demonstrate here three unique versions.
There are pictures below shared by visitors to this website, links to street vendor videos, and detailed instructions on how to prepare three of our own versions. Perhaps the most famous gai yang is sold by vendors in the seaside community of Bang Saen, where the bird is cut open along the belly, flattened with a few blows from the back of a cleaver, and pegged with a stick to hold it, then marinaded and grilled over charcoal.
---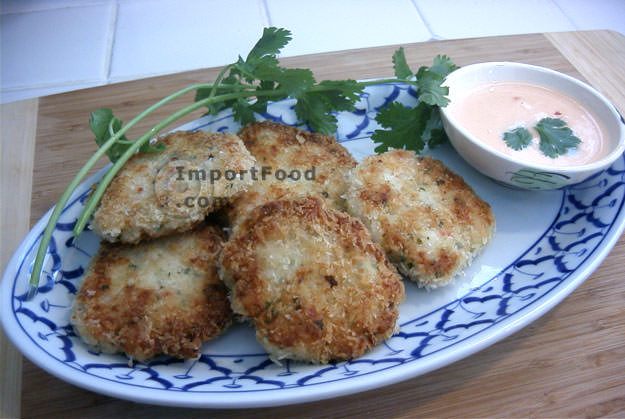 Panko Shrimpcakes with Chile-Lime Sauce
Shrimpcakes are often served in the more upscale Thai/Chinese restaurants in Thailand. We love the flavor of these shrimpcakes. The chile-lime sauce is definitely not a Thai flavor, but it's quite tasty. We think you would enjoy this dish just as much if the shrimpcakes are served with fresh yellow chile sauceand or Mae Ploy sweet chile sauce so the chile-lime sauce is optional. For best results use the largest, best quality shrimp you can find.
---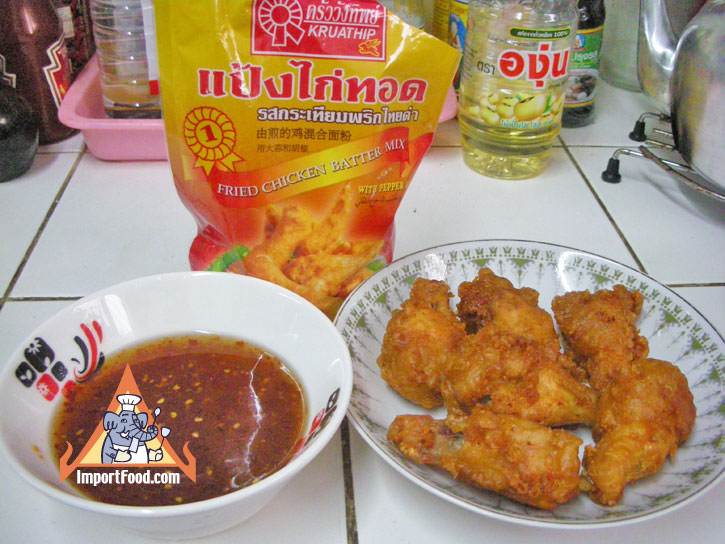 Thai-Style Fried Chicken
Leave it to the Thais to create the best fried chicken in the world. This batter perfectly coats your chicken (or vegetables, as we made fried mushrooms and onions that turned out excellent). Simply mix it with water and sugar (see mix below). You really can't go wrong, and it's just excellent batter. We fried drumsticks and breast slices, then used world-famous Thai sweet chile sauce as a dip.
Serve in our Handpainted Ceramic Big Boat.
We also prepared this with some added spices to create a "Tom Yum" flavor, which is very delicious, see variant method below.
---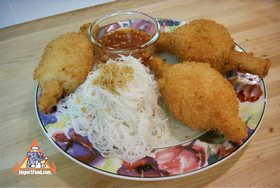 Thai Sugarcane Prawns, 'Goong Pan Oi'
We first discovered sugarcane prawns 15 years ago in Bangkok at a delightful Vietnamese restaurant called Sweet Basil, which is apparently still in business but at a new location.
It's not spicy at all, and the sugarcane adds a nice touch of sweetness to the prawns. Aside from the wonderful taste of this recipe, just the unique appearance of prawn cakes on a sugarcane stick is enough to make your friends marvel at your cooking prowess. We know you'll like this special recipe if you give it a try.
---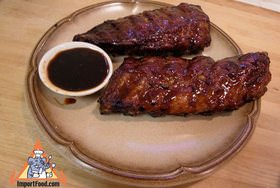 Sweet Chili and Root Beer Baby Back Ribs
This recipe uses Thai and Indonesian ingredients, the results are fantastic. The best barbeque ribs we've ever made, thanks to the sauce which is added to the ribs at the end of cooking, then on the side as a dip. Just four ingredients make up the sauce, so this is a very simple recipe!
The recipe is featured in the July 2010 Fine Cooking Magazine, and ImportFood.com is the recommended supplier of kecap manis.
---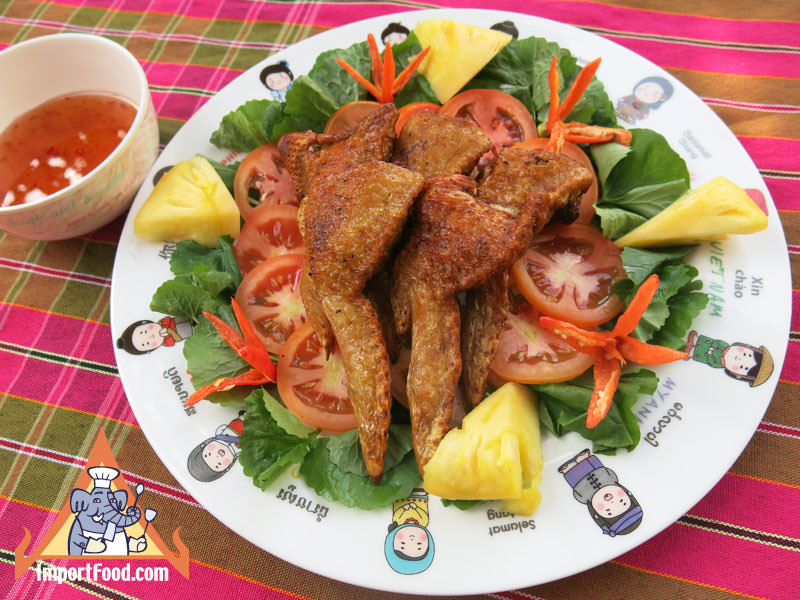 Stuffed Chicken Wings, 'Peek Gai Yat Sai Goong'
Can be eaten as a starter or as a snack on their own. They are also served as a side dish with a larger Thai dinner.
---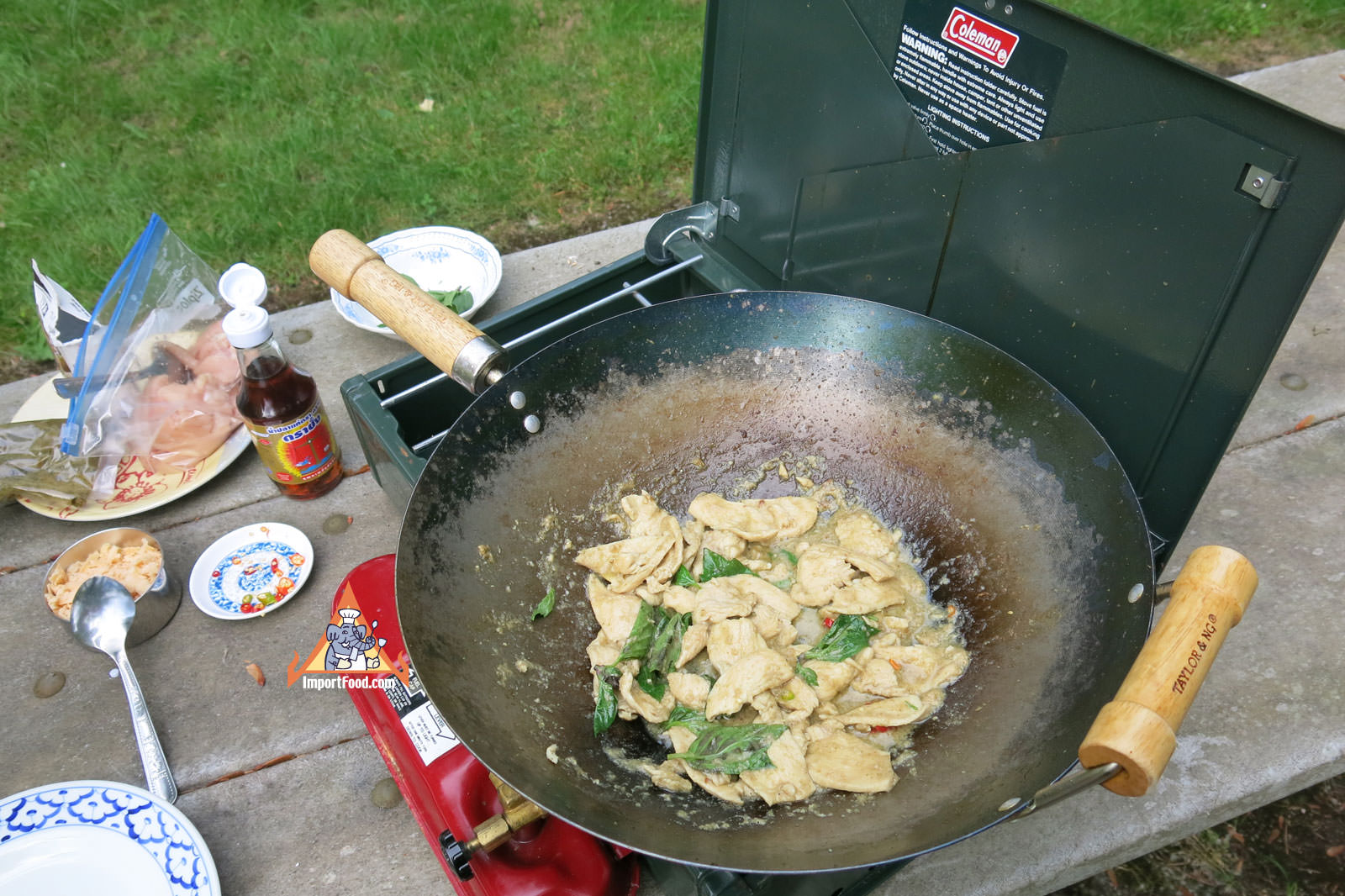 Chicken Stir-Fried with Green Curry, 'Gai Pad Khiaowan'
This is an example of the popular 'fried curry' style that produces a dry result. It blends equally well with rice or noodles.
---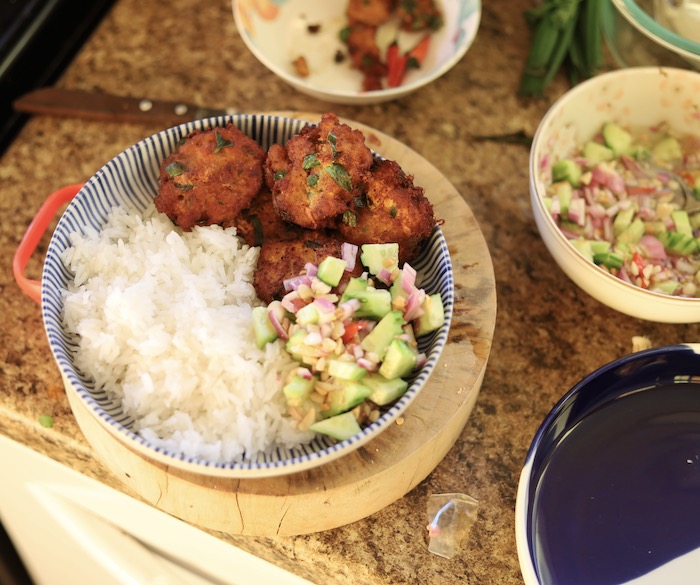 Spicy Thai Fish Cakes, 'Tod Man Pla'
Tod man pla is one of the most famous Thai dishes but seems to be rarely offered on the menus of Thai restaurants in the United States. We're happy to show you how to make it, step-by-step, with great results.
Here we just used cod pieces which can found at local supermarkets.

Also see our Thai Street Vendor video for detailed guidance.
---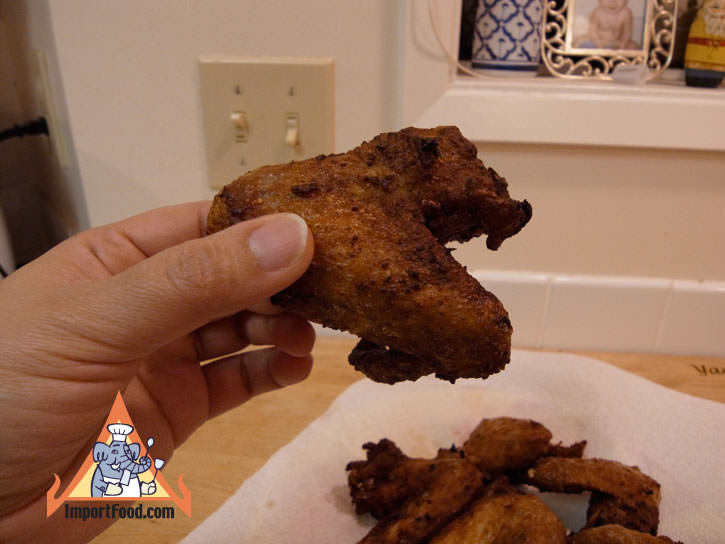 Thai Chicken Fried Hat Yai Style, 'Gai Tod Hatyai'
When chicken is fried this way, it comes out dry rather than greasy. The secret is to cook the chicken two times--first at low heat, then again at high heat. This kind of fried chicken is so tasty when served with sweet chilli sauce. The coating is fragrant and delicious, and it's called 'Hat Yai' which is a province in Southern Thailand. If you like fried chicken, give this Thai-style version a try.
---