Ceramic, rectangular platter, 10" x 6"
Ceramic, rectangular platter, 10" x 6"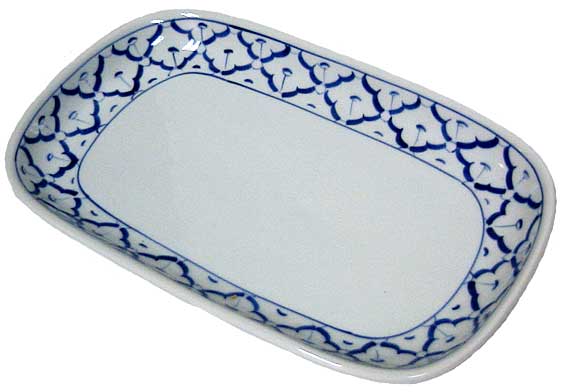 Add to cart
Temporarily Out of Stock

Handpainted rectangular serving platter imported from Thailand. The large platter is not only gorgeous but the perfect size to serve any Thai recipe in style.
This is a strong, heavy piece weighing approximately 2 lbs. One one platter you can fit a serving suitable for two people--put a heaping portion on this serving platter and let everyone share. See it here in our recipe for Thai cashew chicken.
Dimensions are 10" x 6". Vivid blue color and clean white, high quality heavy ceramic. Painted by hand using a traditional design unique to Thai artisans. Certified for use in microwave or conventional oven, as well as dishwasher-safe.
This platter is offered as part of our Thai Ceramic Collector Set (see below). Made in Thailand.