Handmade Thai Walk In The Jungle Knife, 12"
Handmade Thai Walk In The Jungle Knife, 12"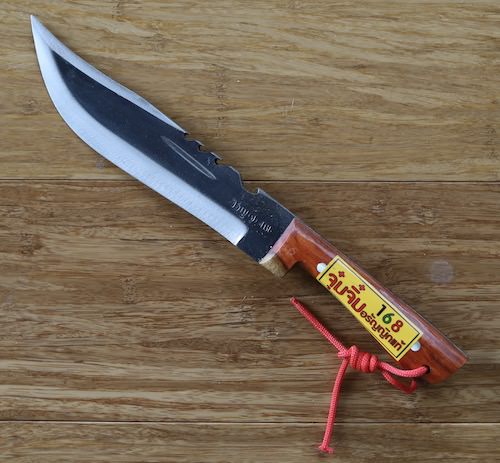 Add to cart
Temporarily Out of Stock

Even at $43 this is a deal but we've reduced that to $33 for this week only. We are buying directly from the knife maker for this great price. Only a few dozen available.
A relatively thick and beautifully designed knife with a great name "Mete Dun Pa" which translates as "walk in jungle knife". Ready for action if a wild boar comes your way. The blade is 3/16" thick. Cut, pounded, shaped, sharpened and finished by hand. 7.5" blade. Total length is 12". Comes with a hand-cut and hand-sewn vinyl sheath.
These knives are made in a village in Thailand that has been producing knives by hand for 200 years. Generations in this village grow up making knives, using kilns to heat and cut the steel, hammers to shape it, then the knives are sharpened with a rasp and hand rubbed before putting them up for sale.
We personally picked these knives for shipment to our shop for sale to you.
The knives have a lot of character, and the fact that they are handmade is obvious. The wood is hand shaped. Each knife is stamped by hand as shown. These knives are "one of a kind". They are made using heavy duty steel. Note the details in photos below.