Keychain Knife and Bottle Opener - Kom Kom Thailand
Keychain Knife and Bottle Opener - Kom Kom Thailand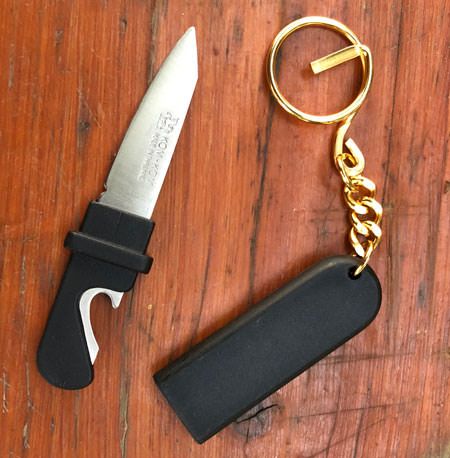 Add to cart
On Sale $3.00 (Reg $7.95)

A useful, extremely sharp small pocket knife from Kom Kom Thailand. 'Kom' rhymes with 'Foam' and means 'sharp' in Thai, so this Kom Kom means Sharp Sharp. Made by the same company as Kiwi, maker of the finest quality stainless steel knives in Thailand.
Measuing just 4" in length closed, there is a bottle opener at the end of the knife. The 2" blade is razor sharp and fits snugly inside of a strong black keychain sleeve. Pull it out, turn it around and put it back in and it becomes a nice all-purpose knife that measures 5" long. The hard plastic handle keeps knife and keychain together.

The knife blade and opener blade are tempered stainless steel. Nicer quality than you might expect for this price. The blade has a Kom-Kom Thailand Made in Thailand logo. Comes in a nice orange package as shown. The keychain can be removed if desired.