Nam Pla Wan, Original, Takrai, 8 oz jar
Nam Pla Wan, Original, Takrai, 8 oz jar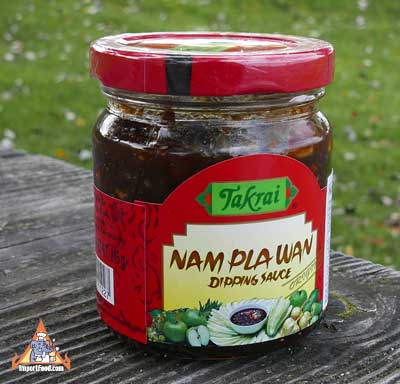 Add to cart
Temporarily Out of Stock

We also offer Mae Pranom brand Nampla Wan.
Elegant sweet and salty dipping sauce, packed in a glass bottle by Takrai which specializes in specifically this sauce. This is their "Original" flavor. It's very good.
We had sold out of Nampla Wan some months ago, after a popular Thai television soap opera's main character traveled back in time 200 years and introduced Nampla Wan sauce to a group of Thai people who had never tasted it before (see show photos below). The entire show focused on how much they loved eating it with green mango.
So this new Nampla Wan just arrived from Thailand, brand new stock.
Nampla wan (nampla = fish sauce, wan = sweet) is a salty and sweet dip that has the consistency of jelly. Dip any fruit, especially sour fruit, into this before eating. Very tasty with sour green mango, radish, granny smith apple, or anything you might like.
Ingredients: palm sugar, shallots, fish sauce, dried shrimp, chile.
No msg, no artificial color, no preservatives.
Product of Thailand.