Southern Thai Spicy - Sour Curry, Smiling Fish, 8.8 oz
Southern Thai Spicy - Sour Curry, Smiling Fish, 8.8 oz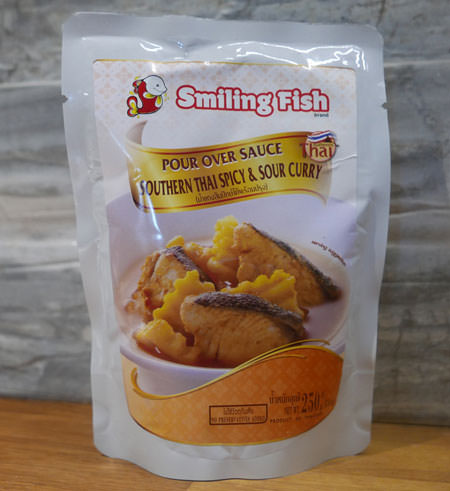 Add to cart
Temporarily Out of Stock

We also offer Tai Pla from Smiling Fish
This is a new product from Smiling Fish, a premium seafood producer in Southern Thailand. Packed in a modern pouch with clear instructions on the back.
This is 'Southern Style Gaeng Som' which means it's hotter and spicier than Bangkok style. This will be high heat, and it has a the classic orange-color that comes from turmeric in the southern Thai curry paste.
Pour contents into a pan, add water, pineapple and/or green papaya, salmon or prawn, and boil until cooked. Serve with Thai Jasmine Rice.
Ingredients: water, southern Thai spicy & sour curry paste (chilli, garlic, turmeric, salt), sugar, lime seasoning powder, salt.
Product of Thailand.
Package Back - Instructions