Thai Ceramic, dinner plate 6"
Thai Ceramic, dinner plate 6"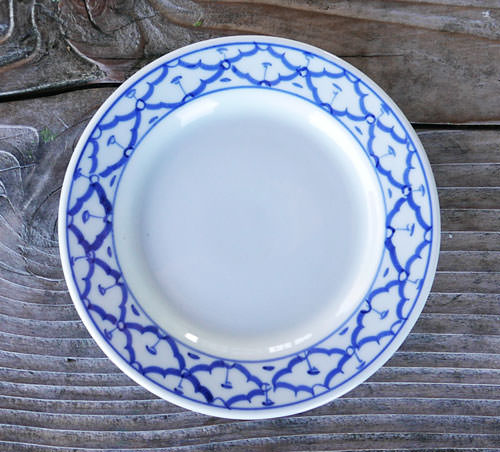 Add to cart
Temporarily Out of Stock

Handpainted ceramic plate imported from Thailand. Each piece is painted by hand using a traditional design unique to Thai artisans. You will appreciate the weight of this thick, ultra-high quality plate.
6.25" in diameter goes well with our Dinner Plate.
We offer two sizes:
9.5" Dinner Plate
6" Plate shown here

We also offer this as a set of two plates.
Certified for use in microwave or conventional oven, as well as dishwasher-safe.
Made in Thailand.
---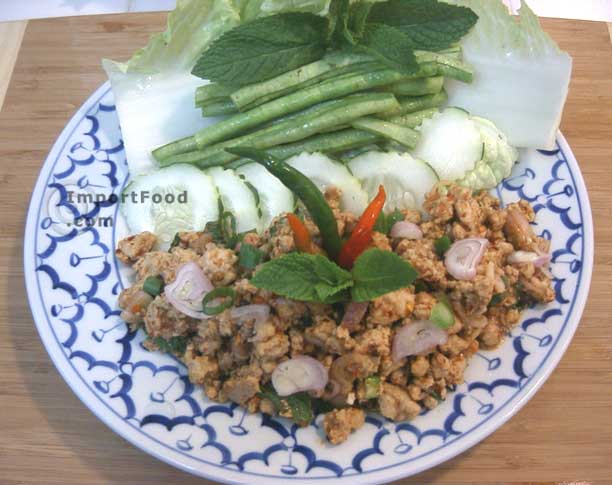 Thai Spicy Ground Chicken and Toasted Rice, 'Larb Gai'
This is one of our all-time favorite Thai dishes, and it is a very common dish served throughout Thailand as well as Laos. It's quick to make and often extremely spicy, but the lime juice and mint leaves make for an exotic and splendid combination.
It can be found on Thai restaurant menus in America as "chicken salad Thai style", which might be the best description for this dish.
Larb is pronounced "lawb" and that means salad. It can be made with beef (lawb nuea) or pork (lawb muu) instead of chicken.
---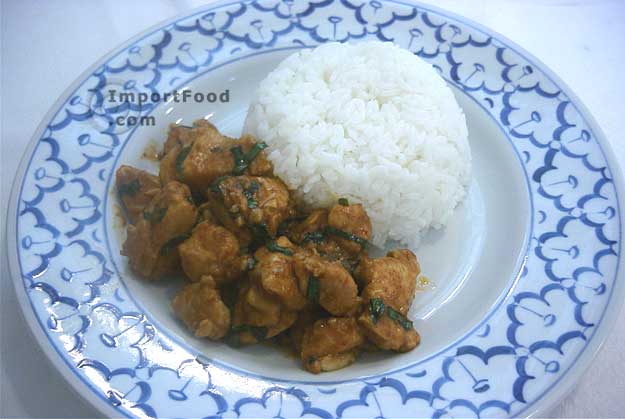 Panang Chicken Curry, 'Panang Gai'
Penang is a dry curry, probably originally "imported" from Malaysia. It can be prepared with any meat, and many fishes. This variety uses chicken.
---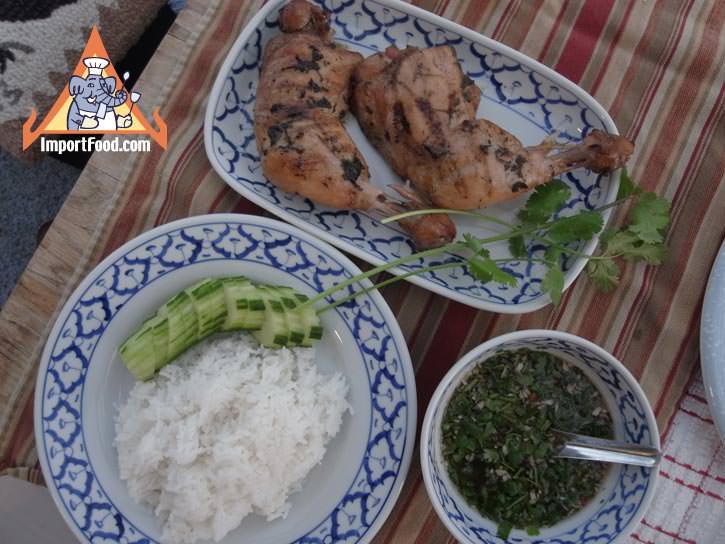 Thai Chicken with Hot-Sour-Salty-Sweet Sauce
The simple marinade and cooking method here creats chicken that's slightly dry on the outside, perfectly cooked on the inside & ready for the dipping sauce.
We used a charcoal barbecue with a vented lid (made by PK Grill in Arkansas), which allows us to adjust the temperature. We barbecued with lid closed at a medium/low temperature for about 30 minutes, before transferring to the oven. Our method is slightly different than what is suggested in Food & Wine Magazine, where this appeared. They recommend barbecuing the chicken at high heat for 12 minutes only, before transferring to an oven.
---