Thai Ceramic, handpainted lotus bowl 6"
Thai Ceramic, handpainted lotus bowl 6"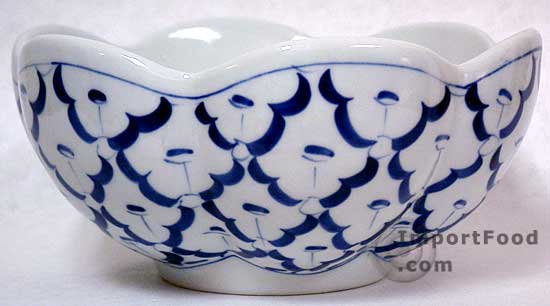 Add to cart
Temporarily Out of Stock

Handpainted unique and beautiful ceramic lotus bowl imported from Thailand.
Also known as a Lotus Bowl to reflect the shape of a lotus flower. Each bowl is smooth on the inside, with 6 separate petals on the outside and carefully rounded shape at the top. Bowl is 6 inches wide and 4 inches tall.
Vivid blue color and clean white, high quality heavy ceramic. Each piece is painted by hand using a traditional design unique to Thai artisans. You will appreciate the weight of this thick, ultra-high quality bowl.
In Thailand this would be used for serving fruit. Certified for use in microwave or conventional oven, as well as dishwasher-safe. Each piece will arrive in perfect condition as we place a great importance on packing methods.