Thai Coconut Milk Drink, Chaokoh brand
Thai Coconut Milk Drink, Chaokoh brand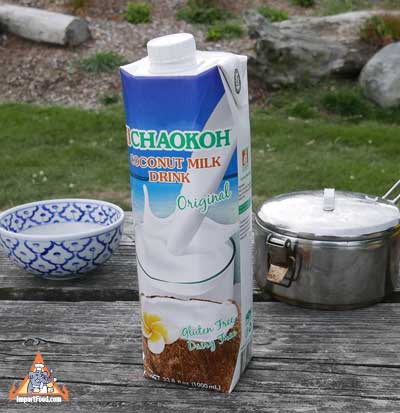 Add to cart
Discontinued

This is a brand new product from Chaokoh and we are the first to offer it.
Fresh-tasting, delicious coconut milk drink that has more fat and calories than the popular coconut water drinks. Drink it straight, with coffee, or any other way you may enjoy dairy milk.
Lovely pure white color identical to dairy milk,
Packed in a strong paper carton with convenient screw top.
Dairy Free. Gluten Free.

Ingredients: Coconut milk, coconut water, sugar, sucrose stearite as emulsifier, artificial flavor.

Nutrition Facts
About 3 servings per container
Amount per Serving:
Calories: 190
Total Fat 12g
Saturate Fat 10g
Transfat 0g
Cholesterol 0g
Sodium 20mg
Total Carbohydrates 20gm
Dietary Fiber <1g
Sugars 12g
Product of Thailand