Thai Jasmine Essence
Add to cart
Temporarily Out of Stock

Jasmine is known in Thai as mali. This fragrant liquid is an extract of the jasmine flower, which has a unique fragrance that is known to all Thai people. Usually woven by hand into garlands and sold in markets everywhere, the jasmine flower is used to add fresh smell to cars and homes, and it's used in Thai food to add fresh smell to desserts but imparts no flavor.

2 oz is a generous size and will last for a very long time, as it usually only takes a few drops.
Ingredients: propylene glycol, water, artificial jasmine flavor.
Product of Thailand.
---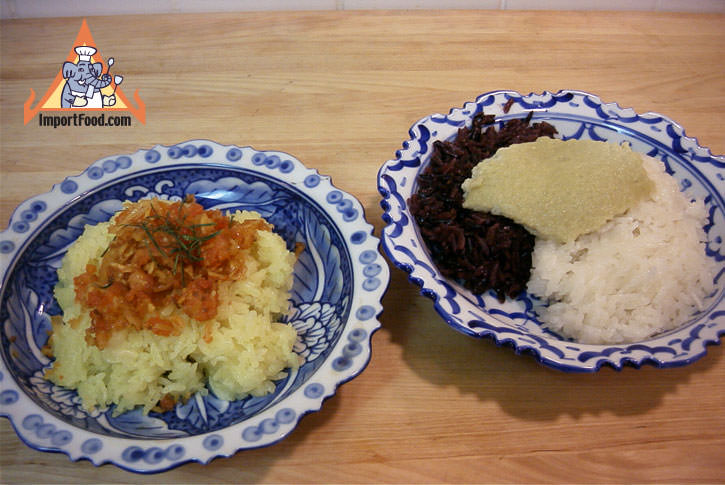 Thai Sticky Rice Steeped in Coconut Milk, 'Khao Neeo Moon'
Khao neeo moon is a truly authentic Thai recipe. Mixing sweet dessert rice with a sugary seafood topping might seem like a bizarre combination that Food Network might sensationalize on one of their celebrity shows. Yet this is a favorite of Thailand found throughout the country, made interesting by a variety of toppings. Here we demonstrate how to make the rice, and two of the more common toppings.
We prepared the rice in three colors. White, black (using black rice), and yellow (white rice colored with turmeric). In Thai tradition, the shrimp topping should go on the yellow rice.
---