Thai Sticky Rice Wood Paddle, 16"
Thai Sticky Rice Wood Paddle, 16"
Add to cart
Temporarily Out of Stock

When we made our Thai sticky rice street vendor video, some customers commented on the useful wooden paddle used by the chef to separate and knead the rice. We've imported some of these from Thailand, and we're pleasantly surprised at the nice size and overall quality of it.
The paddle can be used for all sorts of mixing of ingredients, and for those who just like to have a wood paddle around. We did sell several to a person in the deep south who had them finely sanded and oiled, then used them for making large batches of chilli. He said the large size is perfect for big kettles of soup.
our complete thai sticky rice kit
---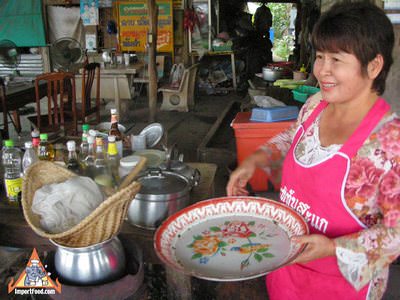 Thai Sticky Rice
Thai Sticky Rice (also known as "sweet rice" or "glutinous rice") is a tasty, sweet rice that does a great job of filling the stomach--but be careful not to eat too much... According to Thai tradition sticky rice can put you fast asleep if more than a couple handfuls are eaten. It is meant to be formed into small balls that you make with your fingers. Then dip it in spicy sauce and let it soak up like a sponge.
Sticky rice is enjoyed throughout Thailand and Laos, and is gaining popularity as more people come to know it's unique delicous taste.
---