Trendy Stainless Vacuum Bottle, Blue, Zebra Thailand
Trendy Stainless Vacuum Bottle, Blue, Zebra Thailand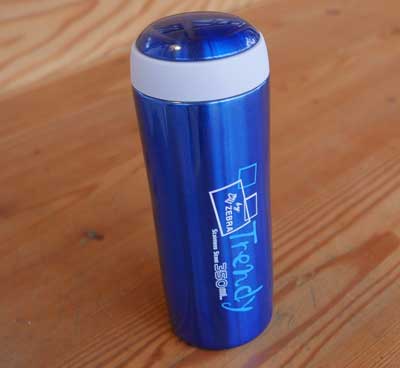 Add to cart
12 oz, Blue - $21.00

Zebra Thailand has been around for decades, designing and manufacturing very high quality cookware often with a creative look.
We also offer this in pink color.
The "Trendy" brand is relatively new, and this is their modestly-sized stainless vacuum bottle. At 12 oz it feels just right, for those who don't like to carry around a giant thermos.
It's a double-walled bottle with secure lid. Within the lid is a separate compartment as shown (see pictures below).
Very nicely painted with a finish that should last for years. Keeps drinks hot or cold for hours.
Made in Thailand.