Wave knife, Kiwi & Kom-Kom, 10.5 inch
Wave knife, Kiwi & Kom-Kom, 10.5 inch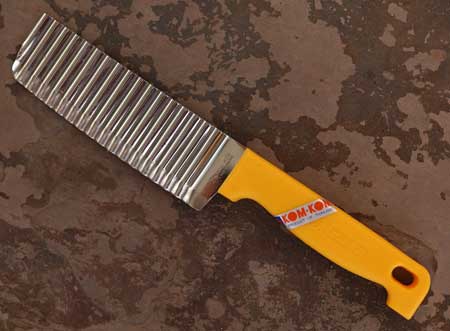 Add to cart
$12.95

Restaurants use this constantly to quickly create the attractive wavy-cut vegetables in Thai stir-fry dishes. See our photos below -- the Kiwi Wave Knife cuts through in an instant.
We used this to prepare carrots and red bell peppers in our quick recipe for Thai Holy Basil Chicken.
Made in Thailand with premium stainless steel and aircraft-grade plastic by Kiwi & Kom-Kom. The blade is sharp at one end and thin from bottom to top. The handle is a lightweight strong plastic with a comfortable grip.
Total length is 10.5", the blade is 5.5".
Made in Thailand.