Thai Lays Potato Chips, Saengwa Prawn Salad, 48 gram
Thai Lays Potato Chips, Saengwa Prawn Salad, 48 gram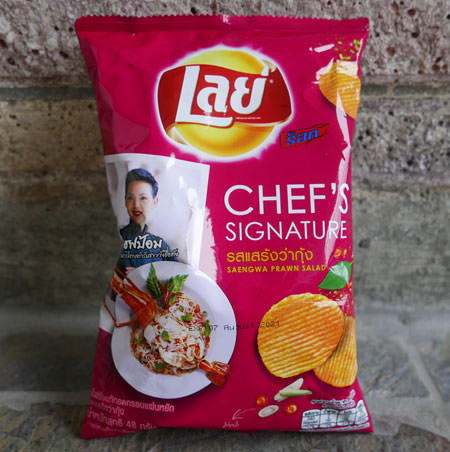 Add to cart
Temporarily Out of Stock

Lays Thailand consistently adds unique flavors to the classic potato chip, often tourists love them and add a few bags to their suitcase because there's no distribution of these flavors outside of Thailand.
Here's the newest arrival, Saengwa Prawn Salad flavor. On the package is a picture of a famous TV chef in Thailand named ML Kwantip Devakula (Chef Pom) who specializes in royal Thai cuisine.
The chips are cut nice and thick, as shown below. Saengwa Prawn Salad is a 'light tom yum' flavor which isn't too spicy and became popular among chefs serving the royal family.
The potato chip itself is exactly the same as you expect from Lays, it's the flavor added that brings extra enjoyment.
You get a meager 46 gram package.
Product of Thailand.
Our selection of lays thailand potato chips