Mama, Chan Tom Yum Instant Noodles
Mama, Chan Tom Yum Instant Noodles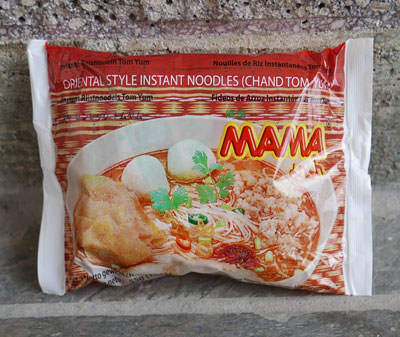 Add to cart
Buy 6 packs, $6.85

Here we have a fairly new style of Mama, made using premium chantaboon rice stick noodles. Serving size is 1.94 oz dry, which is a bit larger than most Mama noodle packs. One bowl can fill you up, and the tom yum flavor is just as you might hope for--a lovely combination of sour & spicy.
Add the three separate spice packets, then add hot water, and let sit for 3 minutes.
Also see our recipe for Tom Yum.
Also see our classic tom yum shrimp instant noodles.
Ingredients: rice flour, sugar, salt, palm oil, sesame powder, garlic, chili powder, flavor enhancer E621, E635, dried leek, E330, garlic powder.
Product of Thailand.
---
---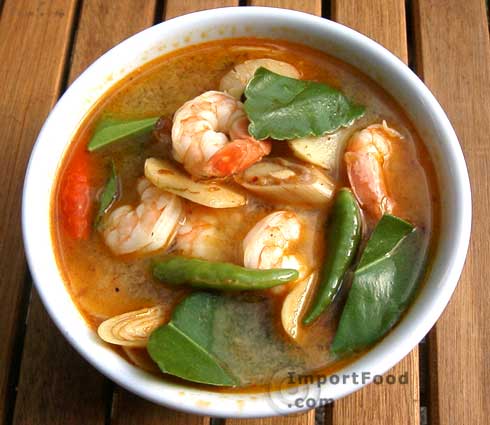 Thai Prawn Soup with Lemongrass, 'Tom Yum Goong'
Tom Yum is both hot and sour, and it's one of the main signature dishes that defines Thai flavor. We've perfected this recipe and assure you it tastes great.
Typically a chef will use a pork or chicken stock then add the basic fresh staples to create the tom yum, as in our video: Railroad Chef Prepares Tom Yum. We like to start with a simple vegetable broth instead, so our recipe starts with the broth instructions then continues with how to make the tom yum.
It's important to use "prik pao" in your tom yum and we have several brands, with slightly varying tastes depending on your preference.
Also -- See Our Thai Street Vendor Video: Thai Street Vendor Prepares Tom Yum.
---