Mama, Chan Tom Yum Instant Noodles
Mama, Chan Tom Yum Instant Noodles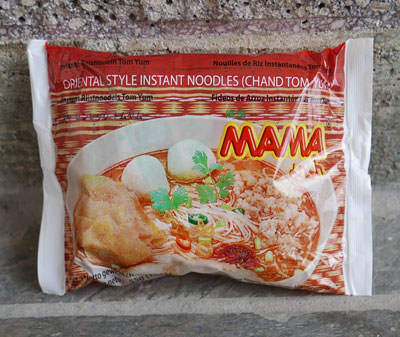 Add to cart
Buy 6 packs, $3.25 (reg $6.85)

On Sale - 50% Off While Supplies Last. This Has Best By Date June 2023.

Here we have a fairly new style of Mama, made using premium chantaboon rice stick noodles. Serving size is 1.94 oz dry, which is a bit larger than most Mama noodle packs. One bowl can fill you up, and the tom yum flavor is just as you might hope for--a lovely combination of sour & spicy.
Add the three separate spice packets, then add hot water, and let sit for 3 minutes.
Also see our recipe for Tom Yum.
Also see our classic tom yum shrimp instant noodles.
Ingredients: rice flour, sugar, salt, palm oil, sesame powder, garlic, chili powder, flavor enhancer E621, E635, dried leek, E330, garlic powder.
Product of Thailand.
---
---