Chilli Paste For Tom Yum, Prik Pao, Mae Pranom White Can
Chilli Paste For Tom Yum, Prik Pao, Mae Pranom White Can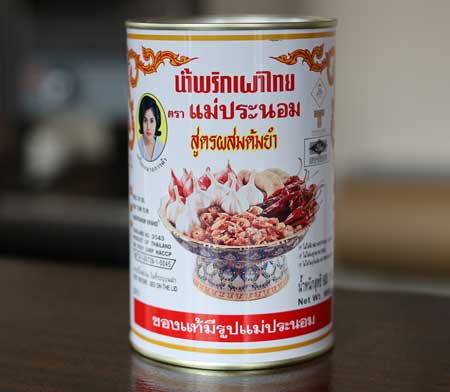 Add to cart
$14.25-32oz can

We are the first to import this fantastic product direct from Mae Pranom, the freshest and most delicious 'Prik Pao' you will ever taste.
White Can is designated as specialized for the local Thai market, made specifically for Tom Yum Goong but we find it's great just spooned over freshly steamed rice (then mixed to incorporate the prik pao into all of the rice) or added when making fried rice. We like it as a simple dip for fresh vegetables.
This is sold in a tall tin can.
You get 32 oz of prik pao in each can, so this is a large quantity and allows for generous use. On a per-ounce basis, this is less expensive than our 8 oz jar of mae pranom prik pao in the jar.
The top opens up like a paint can, just use the handle of a spoon to pry it up. The Prik Pao is packed inside the can, in a modern, strong plastic pouch (see picture below). Just open the pouch and pour it back into the can for storage in your pantry.
Makes a fantastic gift for any Thai person you may know, as this is very rare in USA aside from our shop. We've never seen it offered before outside of Thailand.
Ingredients: sugar, salt, soybean oil, onion, garlic, dried chilli, dried shrimp, tamarind, shrimp paste. No preservatives. Made in Thailand.
We offer three different brands of prik Pao:
Prik Pao is used in the following Thai recipes
Thai Prawn Soup With lemon grass, "Tom Yum Goong"
Cracked Crab Thai Curry "Bu Pad Pong Kari"
Stir-fried Squid in Chile, "Plamuk Pad Namprik Pao"
Fried Sticky Rice, "Kao Neeo Tod"
Thai Fried Clams in Roasted Chile Paste, "Hoy Lai Ped"
Chicken Salad with Spicy Peanut Vinaigrette, Thai-American style
BBQ Chicken Salad, Thai-American Style
Other Great Mae Pranom Products