Thai MSG, Monosodium Glutamate, 17.5 oz
Thai MSG, Monosodium Glutamate, 17.5 oz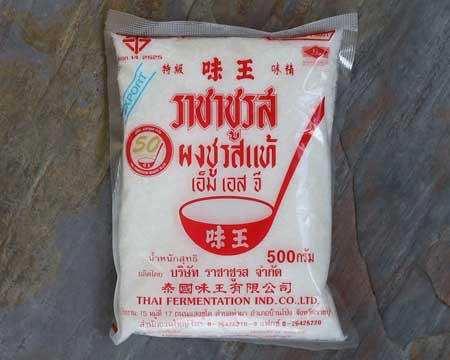 Add to cart
$4.89-17.5 oz

Our MSG is made in Thailand from a pioneer that's been making it for over 50 years.
In Thailand, it is commonly added to recipes to improve the flavor--indeed if you watch our Thai street vendor video series, many chefs add it as they cook everything from noodles to fresh salad. In Thai msg is called "pong churod", and you can feel free to request a meal with no pong churod if you'd rather avoid it. Thai restaurants often display a sign "No MSG" which usually means they use sugar instead, to add flavor. We like to try a bit of both.
There is no dispute that msg makes food taste better, but msg is controversial. First developed in Japan, from seaweed, msg is a salt of the amino acid - Glutamic Acid (glutamate). Glutamate is a compound naturally found in foods like cheese, mushrooms, and tomatoes. The US Food and Drug Administration (FDA) has classified msg as a food ingredient that is "generally recognized as safe" and does not cause long-term health problems. Msg is in thousands of processed foods in America, found in common brands such as Nestle, Campbells, Frito-Lay, McDonalds, Taco Bell, Hamburger Helper, Knorr, Lipton, Burger King, KFC, etc.

It's often disguised under various names such as "disodium guanylate" or as "flavor enhancer" and others. Some in the medical community say that msg will cause weight gain, children being more sensitive than adults. Some say msg lowers sperm count, causes heart problems, migraine headaches, and other ailments. Ill effects from msg are likely to be suffered due to over-consumption, or intolerance by a particular person.

Healthy, dark green vegetables, high in magnesium, are reported to diffuse ill effects of msg. So if you're not sure, start by using it in a stir-fry that has spinach or broccoli. Aside from that, be careful not to over consume msg. A tad bit, such as a half-teaspoon per serving, goes a long way.