Thai Tamarind Candy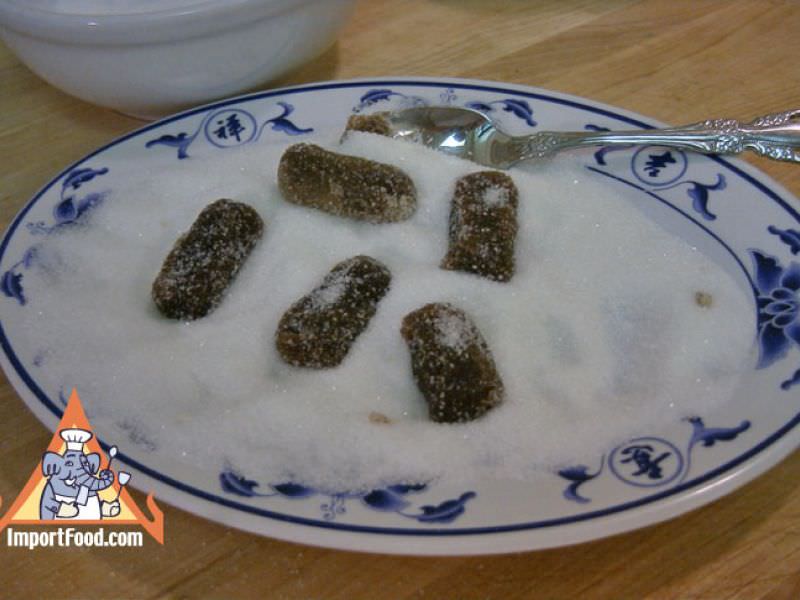 During a visit to Thailand we encountered the most delicous candy we've ever tasted. The candy was all natural, made of just tamarind paste and sugar, shaped like a Tootsie Roll and wrapped in little plastic wrappers twisted at each end. It was soft, fruity, slightly sour, chewy, and the overall flavor of this candy was just perfect. While we've offered tamarind candy of our own, what we tasted was different because it was so fresh.
We worked on our own tamarind candy recipe for a few days to get the flavor down but something is not quite right. It's either too sticky & wet, or it becomes overcooked with hard bits developing in the fruit. If anyone reading this can help improve the recipe we'd really appreciate it. Perhaps a candy maker reading our recipe might like to offer some help. Feel free to use the form below to send improvements and suggestions.
Here is what we've come up with so far:
Method for Thai Tamarind Candy
Put the tamarind paste in a large container and soak with the warm (hot to the touch) water. After about 1 hour, mix well to dissolve the tamarind as much as possible, then pour this into a strainer and work the mixture through the strainer as much as possible. You will be left with a nice, strained, thick sour liquid. Put this into a pot over medium heat and add the palm sugar. Stirring on a regular basis until the palm sugar is dissolved, keep it at medium heat until about 1/3 of the liquid is evaporated.
Try putting a small amount on a dish in the fridge. If it sets up after a few minutes, it's time for the next step.
Pour the thick mixture onto a cookie sheet, spread it out a bit, and place in the fridge for a few hours. Remove from fridge and, with a spoon, scoop up a small amount and drop it into a bowl full of plain white sugar. Roll it around and form a small candy, then let it sit on another plate that has sugar about 1/2" deep on it.
After about an hour, the candy is ready to eat. We'd like to find a way to make the candy more firm, but in our experience if it's overcooked the flavor becomes less desirable. Any feedback is most appreciated.

Reviews