Simple Stir-Fried Bok Choy with Oyster Sauce

Simple Stir-Fried Bok Choy with Oyster Sauce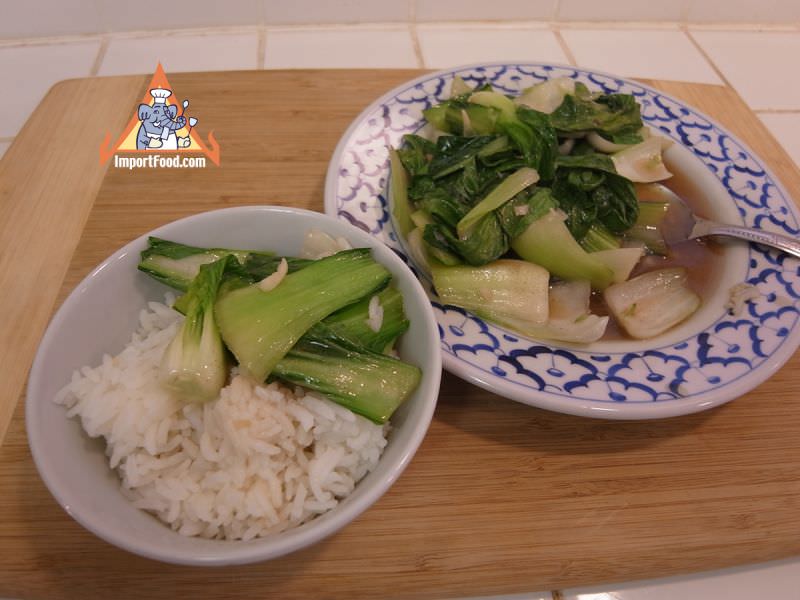 While many of our authentic Thai recipes involve a dozen different ingredients, and lots of preparation time, here we demonstrate how to prepare a simple and elegant bok choy using Thai oyster sauce and pepper powder. Served over jasmine rice, this quick delicious meal is something to practice and master. In 10 minutes, you can create a meal that rivals what the finest restaurants serve.
Method for Simple Stir-Fried Bok Choy with Oyster Sauce
Cut off the end of your bok choy, then separate all the leaves. Gently rinse leaves to wash away any dirt. Cut into 1.5 inch long pieces. Put the white bottom parts in one bowl and the green top parts in the other bowl.
Heat a wok to medium heat, add vegetable oil, heat. Add garlic, and fry until fragrant (do not burn garlic). Turn the heat up to medium-high, add white bok choy. Stir fry gently until it gets soft then add the rest of the bok choy. Add oyster sauce and soup stock. Stir until well blended, then cover and let cook for 1 minute. Remove the cover, sprinkle with sesame oil and Thai pepper powder. Transfer to serving plate. Serve immediately with steamed jasmine rice. Enjoy.

Reviews