Salmon in Spiced Tamarind Soup, 'Tom Som Pla Salmon'

Salmon in Spiced Tamarind Soup, 'Tom Som Pla Salmon'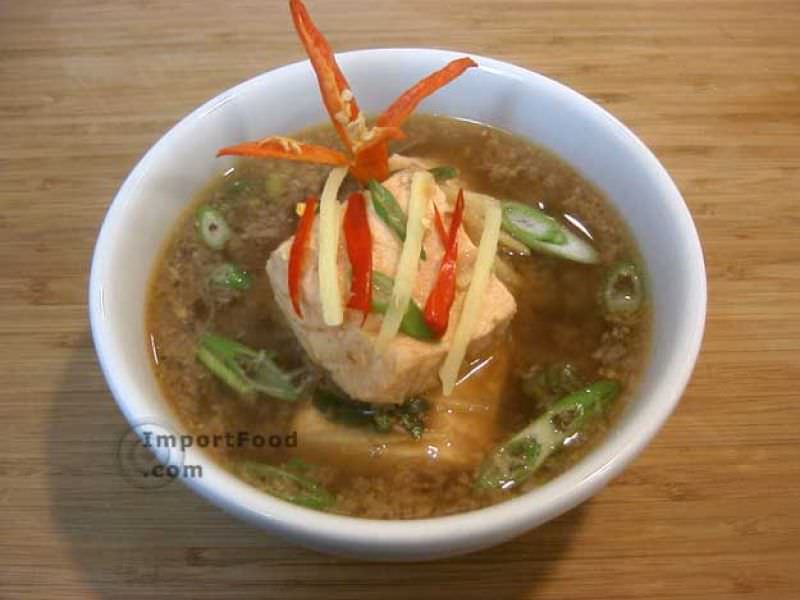 Tom Som is a soup with a complex range of flavors, as you can see the ingredient list is diverse and exotic. The final result is unique, and not a flavor that is an instant hit with everyone. We always feel that Tom Som is somewhat of an acquired taste. It should be first "sour", second "sweet" and third "salty". Use good quality wild salmon if possible, but other fish such as cod or halibut will work fine.
Method for Salmon in Spiced Tamarind Soup, 'Tom Som Pla Salmon'
Using a mortar and pestle, pound all ingredients for chile paste to form a fine paste. Heat the oil in a saucepan, add chile paste, and saute until fragrant. Remove from heat. Put water or chicken stock into a pot, bring to a boil. Add chile paste, stir well, and the rest of the ingredients except for the fried onion. Return to a boil and simmer 1 minute. Ladle into a bowl and serve with warm jasmine rice.

Reviews
People in this conversation