Steamed Fresh Fish and Vegetables Thai-Style with Dipping Sauce

Steamed Fresh Fish and Vegetables Thai-Style with Dipping Sauce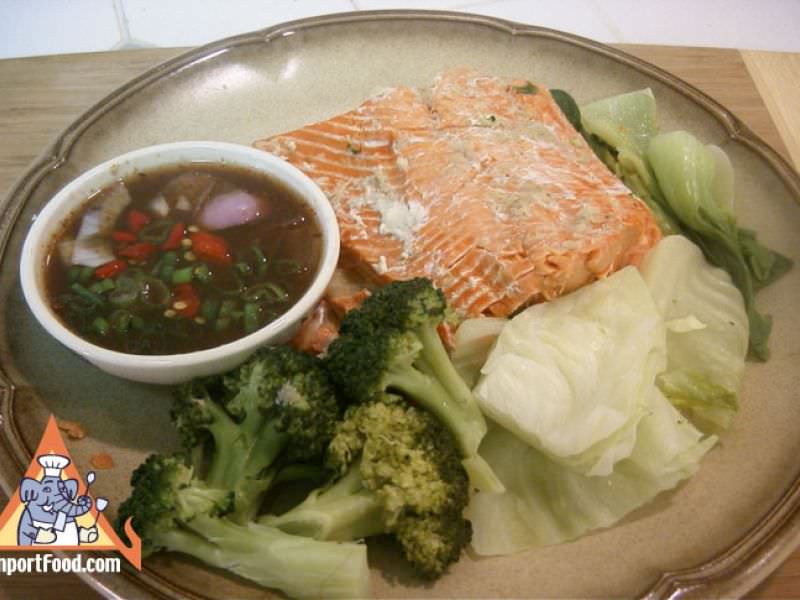 Here is an interesting way to steam fish and vegetables using the Thai sticky rice steaming cookware which we've sold for years. The fish and vegetables are nicely cooked together then eaten with a delicious spicy sauce using the water left over from steaming. It is so simple, unique and delicious. We used a salmon filet for this recipe, but you can use any fish (such as trout, pomfret, halibut, even shellfish--whatever you have available). You can also use any variety of seasonal vegetables.
Ingredients
For 4 Person(s)
Ingredients for Fish and Vegetables
3/4

Pound

Fish or Seafood of your choice

1

Teaspoon

Fish Sauce

1/4

Teaspoon

Salt

Garnish

Seasonal Vegetables
Ingredients for Dipping Sauce
Buy ingredients for this Recipe
Method for Steamed Fresh Fish and Vegetables Thai-Style with Dipping Sauce
Method (Fish and Vegetables)
Rub fish sauce and salt on the seafood, set aside. Add water to the sticky rice steaming pot so it's 1/4 full, and boil at medium heat. Set bamboo steaming basket on the pot and lay cheesecloth on top of the basket. Put about half of the vegetables into the basket (on top of the cheesecloth), then place the fish on top of the vegetables. Add the rest of the vegetables then cover everything by folding over the cheesecloth. Set a lid on top of the cheesecloth to help contain the steam. Let this steam for about 20-25 minutes. Keep the water left over in the steaming pot, this is used to make the dipping sauce (below).
Method (Dipping Sauce "Nam Jim Jeaw")
Heat the first four ingredients in a small sauce pan until boil, remove from heat and set to cool. Then add the remaining ingredients to the sauce, stir together and serve.
Khao Koor (optional ingredient for the dipping sauce): get a medium sized wok or skillet fairly hot, and add a couple of tablespoons of uncooked jasmine rice. Keep in movement until the rice starts to turn golden brown. Remove from the heat and allow to cool. Grind to a fairly coarse powder in a spice mill, or a mortar and pestle, or a pepper mill or a good clean coffee grinder (all of these work well but keep in mind that a coffee grinder tends to grind too fine--the powder should retain some "texture").
Serve with Thai jasmine rice or sticky rice. Enjoy!
Steamed fresh fish and vegetables thai style with dipping sauce
Ingredients for dipping sauce

Reviews