Fish in Salted Soybean with Ginger, 'Pla Tao Cheo'

Fish in Salted Soybean with Ginger, 'Pla Tao Cheo'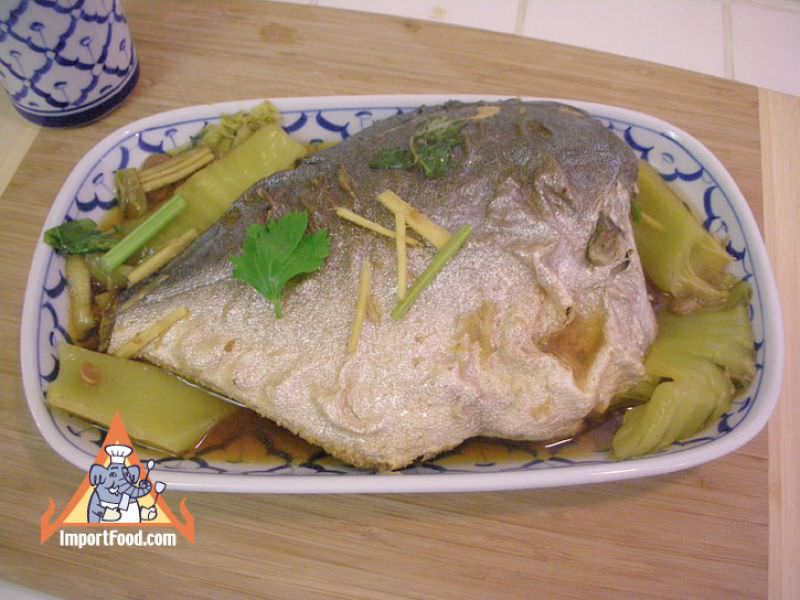 If you thought it was impossible to make delicious Chinese-style fish served on a platter loaded with fragrant herbal soup, think again. We have a simple recipe for you and we just love it. Try to find a good saltwater fish but anything you like should work fine.
Method for Fish in Salted Soybean with Ginger, 'Pla Tao Cheo'
In a mortar & pestle, combine the first 3 ingredients and smash together to become a nice paste, and set aside. Clean your fish by removing the head and remove the insides. Pat dry. Place about 3 cups of peanut oil in a wok and fry the fish at medium heat. After about 5 minutes, flip the fish over then cook the other side for about 3 minutes. Remove and put on paper towel to drain the grease.
Open the package of pickled mustard green, and pour the water from this package into a fairly large cooking pot. Then rinse your mustard green in fresh water, cut it into bite-sized pieces, and put that into the pot. Add the fish to the pot, now add enough water to cover the fish. Add the rest of the ingredients, including the garlic/coriander/pepper paste, but do not yet add the Chinese celery. Let it cook at low heat until the fish is soft (20-30 minutes), then turn off the heat and serve. You can also use high heat and cook it for just 5 minutes. Either way, you will enjoy the fish together with the delicious soup. Serve it on aplatter, topped with Chinese celery, eat with jasmine rice.
Fish in salted soybean with ginger pla tao cheo

Reviews