Thai-Style Noodles with Peanut Basil Sauce

Thai-Style Noodles with Peanut Basil Sauce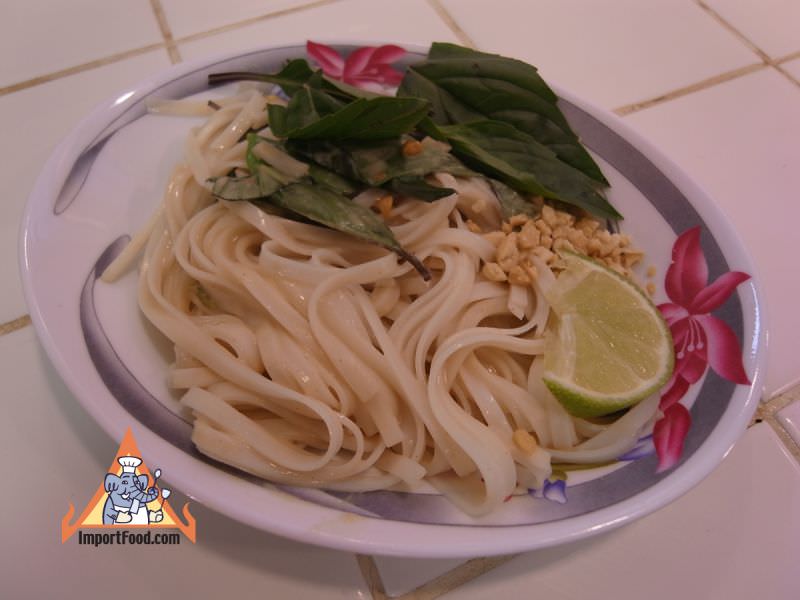 This recipe prepares two generous servings, feel free to make a larger batch. We used a large skillet, as shown, it doesn't need to be prepared in a wok. We used a quick home-made vegetable broth (sliced veggies in water with a bit salt and pepper, simmered for an hour).
It's pleasantly just a tad spicy, we added hand-crushed whole dried Thai chiles. Feel free to add more or less to suit your taste.
It's a delicious vegetarian recipe that everyone should enjoy.
Method for Thai-Style Noodles with Peanut Basil Sauce
Soak rice noodles in lukewarm water for 45 minutes or longer to soften. Trim snow peas and cut in half diagonally. Bring water to a boil in a large heavy saucepan; add snow peas, and cook 45 seconds. Drain. Plunge into cool water to stop the cooking process. Drain and set aside.
Whisk together coconut milk and next 8 ingredients in a large saucepan. Cook over medium-low heat, whisking occasionally, about 5 minutes or until mixture is thoroughly heated. Add snow peas, rice noodles, 3/4 cup bean sprouts, and 3/4 cup basil. Toss and place on a serving platter. Sprinkle with remaining 1/4 cup bean sprouts, remaining 1/4 cup basil, and 1/4 cup chopped peanuts. Serve with assortment of condiments.
Noodles with peanut basil sauce
Sauce mix with dried pepper

Reviews