Thai Coconut Shrimp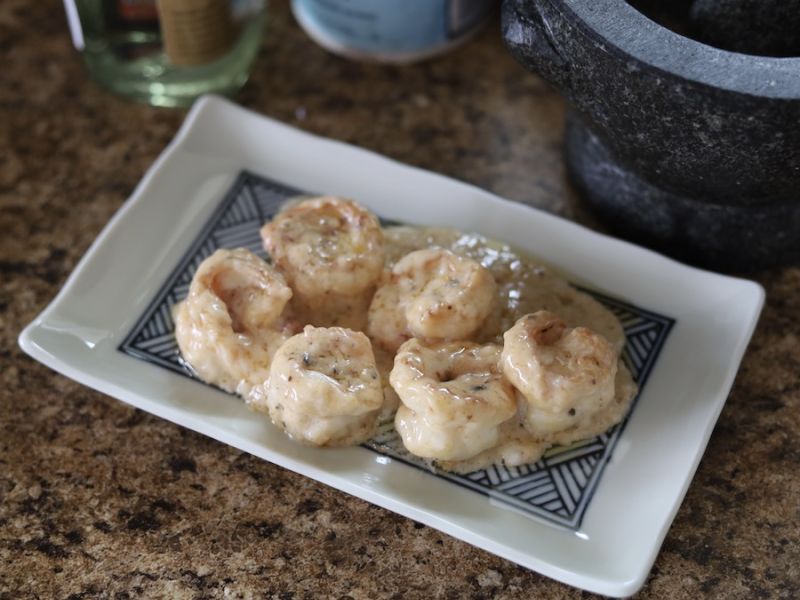 Our coconut shrimp recipe made with all natural coconut milk, sweetened and simmered then poured over large shrimp that we prepare two different styles - 1/fried in butter, and 2/deep fried in oil in tempura batter. We love both styles and highly recommend this recipe.
Method for Thai Coconut Shrimp
Note: our recipe calls for one 8.5 oz box of coconut milk plus 2 tablespoons of condensed milk and 1/2 teaspoon vanilla extract to make the coconut sauce. This is the perfect amount for one pound of shrimp.
Coconut Sauce:
In a skillet, add 8.5 oz box of coconut milk, vanilla extract, and 2 tablespoons condensed milk. Bring to a high simmer. Let this simmer until reduced by about 1/3, then set aside. We like to thicken this sauce a bit by stirring in a small amount of cornstarch mixed water right before removing from heat, but that's optional.
Fried in Butter Style:
Start by cleaning the shrimp, devein and remove shell then lightly salt, and add black pepper freshly pound in a mortar and pestle.
In a skillet, heat butter then add shrimps and let cook over low/medium heat. As soon as the shrimp is cooked, add a sprinkle of cooking wine then mix, and move the skillet away from the heat source.
Keeping the shrimp in the same skillet, pour coconut sauce over the shrimp, mix gently to coat each shrimp in the sauce, then transfer to a plate and serve.
Tempura Style:
We prefer this style, as the shrimp are more crispy before coated with coconut sauce.

Mix tempura batter with water using the package instructions. We prefer adding a sliced green onion to the batter (optional).
Dip shrimp into tempura, then fry in vegetable oil over medium/low heat. When the shrimp are cooked, transfer to a plate.
Place the crispy shrimp into a skillet with heated coconut sauce (prepared using the same method above). Mix to coat each shrimp with the sauce, then serve with fresh cilantro. We like to have sriracha sauce on the side too. This is a lovely sweet & savory shrimp and it goes well with a bit of sriracha too.
Enjoy!

Reviews