Chicken and Noodles in Spiced Broth

Chicken and Noodles in Spiced Broth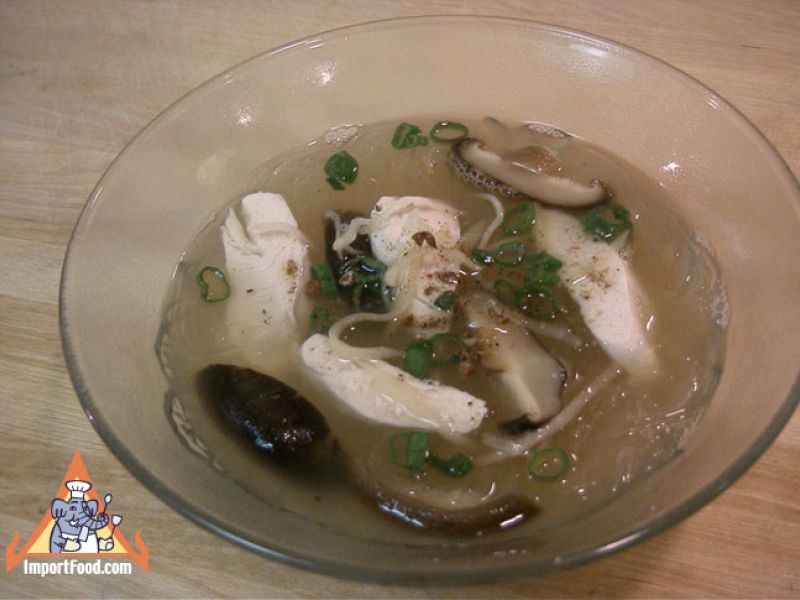 The February 2010 issue of Food & Wine (an excellent magazine!) featured this as a "Healing Recipe To Fight Pain and Panic" It uses so many of the ingredients we offer, so we demonstrate it for you here. We did modify it a bit--the original recipe calls for only salt and pepper to taste, we changed that to a combination of fish sauce, soy sauce and sugar as listed below. The soup tastes spicy, rich, fills your stomach and clears your mind. A real winner.
Method for Chicken and Noodles in Spiced Broth
Soak the shiitake mushrooms in warm water for 20-30 minutes, covered. Remove from water, gently squeeze, and slice.
In a mortar and pestle, crush the Sichuan peppercorns until fine but not powdery. Add the salt and lightly crush to combine, leaving it coarse in texture. Set aside.
In a large saucepan, combine the stock with the star anise, black peppercorns, cinnamon stick, orange zest and the sliced ginger. Bring to a simmer, cover and cook over moderately low heat until fragrant and flavorful, about 20 minutes. Strain the broth into a clean pot and season with fish sauce, soy sauce and sugar. Add the mushrooms, cover and cook over low heat until tender, about 5 minutes. Keep the broth hot.
In a large saucepan of water, poach the chicken at a very low simmer at low heat just until it is white throughout, about 18 minutes. Transfer the chicken to a cutting board, pat dry and let rest for 5 minutes. Slice the chicken crosswise on the diagonal 1/2 inch thick.
Meanwhile, in a medium bowl, soak the noodles in hot water until pliable, about 5 minutes. Drain and transfer the noodles to the hot broth. Let stand until heated through, about 1 minute. Ladle the noodles, mushrooms and broth into shallow bowls. Top with the sliced chicken breasts, scallions and ginger matchsticks. Sprinkle the chicken with the Sichuan pepper-salt and serve.
Chicken and noodles in spiced broth

Reviews