Dressed-up Son in Law Eggs, 'Khai Look Koei Song Krueng'

Dressed-up Son in Law Eggs, 'Khai Look Koei Song Krueng'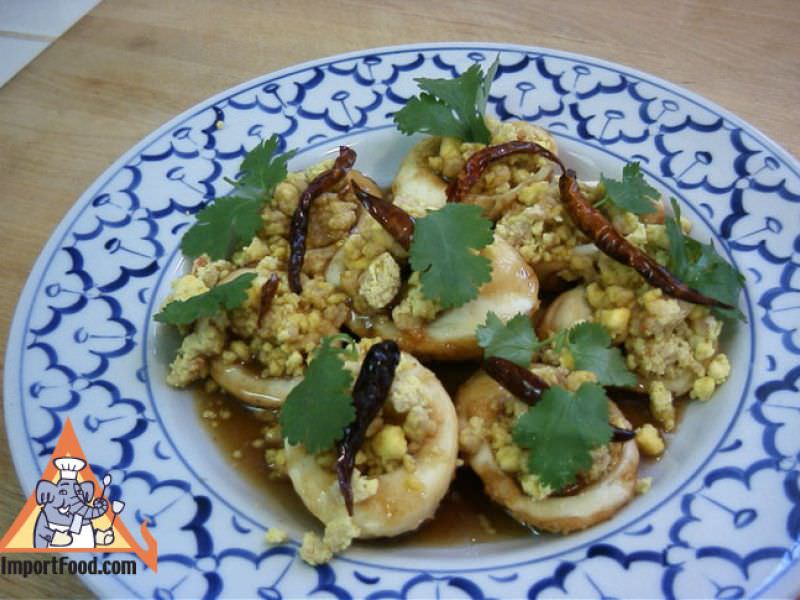 This is a Thai traditional "celebration dish". Enjoyed on Thai New Year's Day, at a wedding feast, or brought to the monks at a temple. A kid friendly meal also.
There are a few variants to this dish. Here we make it in a fancy way, which requires added time and cooking. A more basic version can be found here. You can also prepare the identical sauce and add it to a fried egg, then it will be called "Father in law egg".
Method for Dressed-up Son in Law Eggs, 'Khai Look Koei Song Krueng'
Hard-boil the eggs and let sit in cold water, then peel. Cut each egg in half lengthwise, then place yolks another bowl. Put vegetable oil in wok, and add the egg whites (see photo) and fry until the eggs turn golden brown around the outer surface. Remove the eggs and drain on a paper tower. On a cutting board, chop shrimps and pork together until fine, set aside.
In the same wok, pour off the oil, leaving about 1 teaspoon. At medium high heat, add meat mixture, saute until cooked through. Season with 1/2 teaspoon fish sauce and 1/4 teaspoon white sugar. Remove from heat, transfer into the same bowl with egg yolks and smash all together until combined. Set aside.
For the sauce, heat the tamarind, palm sugar, fish sauce and water together until the sauce gets a bit thick. Remove from heat.
To serve: in a serving plate arrange the fried egg white face up then fill each egg with egg/meat mixture. Pour the sauce over the top, and garnish with fried whole dried chiles, cilantro leaves and fried red onion. Serve with steamed jasmine rice. Enjoy.
Dressed up son in law eggs khai look koei song krueng
Frying shrimp and ground pork
Pour tamarind sugar sauce over eggs

Reviews