Vegetables with Spicy Yellow Bean Sauce Dip, 'Tao Jeeow Lon'

Vegetables with Spicy Yellow Bean Sauce Dip, 'Tao Jeeow Lon'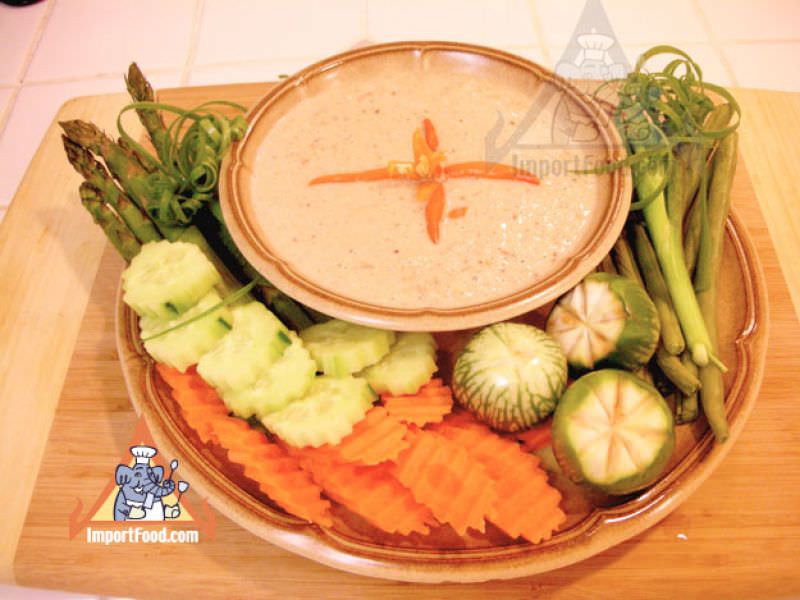 Lon (pronounced Loan) is a special word for dipping sauce that uses coconut milk. The flavor of this dish is somewhat unique, sweet and just a tiny hint of spice. Kids enjoy the dip and it's a healthy appetizer. The combination of the yellow bean sauce and sugar, along with the maengda flavoring, creates quite an aromatic explosion of flavors and smells. Very authentic recipe here, true to the Thai taste, follow the instructions and create a real "taste of home" for Thai people that they may have eaten or smelled in America.
Method for Vegetables with Spicy Yellow Bean Sauce Dip, 'Tao Jeeow Lon'
Method
Place a few tablespoons of yellow bean sauce in a colander and sit, to drain off excess liquid. Pound 2 tablespoons of the drained yellow bean sauce briefly in a mortar and pestle, to break them up a little bit, then set aside. Put coconut milk in a saucepan and warm over medium heat, stirring until smooth but do not let it boil. Add yellow beans and stir well. Add shallots, ground pork (uncooked), shrimp (uncooked), lime juice, sugar, fish sauce, and one of the fresh chiles. Bring to a boil and simmer for about 5 minutes, until cooked. Remove from heat and transfer to a food processor. Pulse to blend it together, then stir in the rest of the chile and the 3 drops maengda flavor. Pour into a bowl for serving.
Serving
As the picture below shows, serve the dipping sauce with seasonal fresh green vegetables of your choice. We like napa cabbage, asparagus, green beans, cucumber, spring onions, and we love it with Thai eggplant. Enjoy this Thai delight, it's one you will not soon forget.

Reviews