Thai Chilli Garlic Udon Soup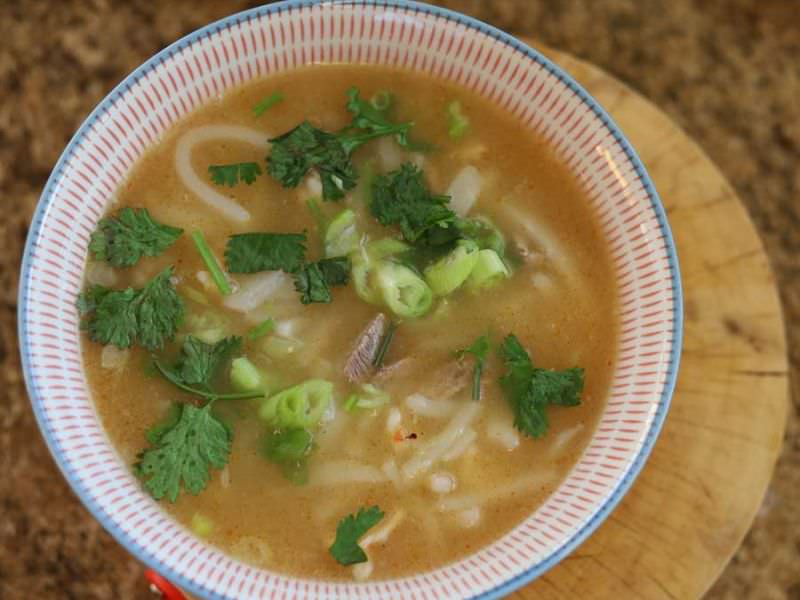 Very simple, rich and healthy soup using udon noodles, which have become very popular in Thai cuisine, together with our Ground Chilli with Fried Garlic paste. Feel free to use chantaboon rice stick if you have that on hand.
Method for Thai Chilli Garlic Udon Soup
Place chicken parts in a pot with cold water. We used an organic chicken wing and thigh. Bring to a boil then drain water, rinse thoroughly, add water back to the pan and bring your chicken to a boil again. Reduce heat and let simmer for 20-30 minutes.
Slice a bit of beef and chop a few fresh prawns as shown in photo -- we used our Kiwi stainless knife and tamarind cutting board.
In a mortar and pestle, pound the prawns together with sliced green onion just enough to get them mixed but not too much as to create a paste.
Cook your udon noodles in water, drain and set aside. Place about 3 cups of chicken stock in a pan, add cooked udon noodles, sliced beef and pulverized prawns. Stir in a teaspoon of ground chilli with fried garlic. Season with fresh cilantro and a small amount of crushed black pepper.
Enjoy!

Reviews