Thai Pork Satay, 'Moo Satay'

Thai Pork Satay, 'Moo Satay'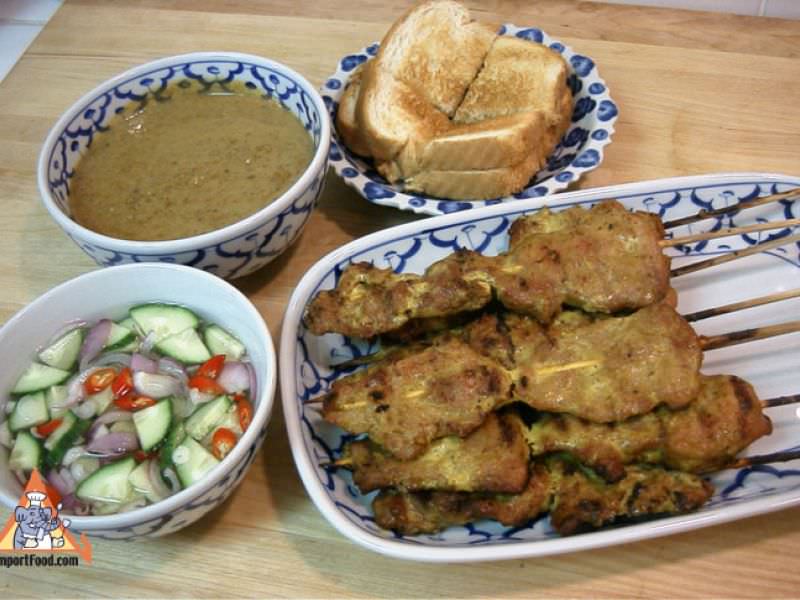 Pork satay consists of strips of marinated pork on bamboo skewers, charcoal barbequed then served with a tasty peanut sauce and a white vinegar cucumber sauce. It's often served in Thailand with squares of toast, as shown in our recipe here. We made pork satay in the true authentic Thai style, which is time-consuming. Be sure to baste your satay as it's on the barbeque, note from our street vendor video (below left) he is constantly basting. It seems that most of the time, this style of satay is made with pork, but you can also find chicken satay and prawn satay. We offer a ready-made satay mix that's quite good for both chicken and pork.
Recently we had a fantastic meal using this recipe, prepared with our high-fat Chaokoh coconut cream rather than coconut milk, and we omitted the peanuts altogether which led to a very rich, slightly spicy satay full of true Thai flavors (see pictures below right).
There are four different things you need to make: marinade, basting sauce, satay sauce, and ajad.
Method for Thai Pork Satay, 'Moo Satay'
Method for pork marinade
Thinly slice 1 stalk of fresh lemongrass, put in a bowl, then pour 1/2 cup boiling water over it. Remove 4 tablespoons of the water and set to cool.
For the can of coconut milk, don't stir it up, and some will have a thicker consistency. Measure 1/3 cup of the thicker part for the marinade. You will use the thinner part for your basting liquid below.
In a mixing bowl, combine the lemongrass water with the coconut cream, and the other ingredients. Mix well, then add the pork, and refrigerate for 1 hour or more.
Method for basting liquid
Combine the four ingredients, mix well, and set aside.
Method for satay sauce
Start by pounding your white sesame seeds in a mortar & pestle, into a thick paste. Set aside. Then pound the peanuts until fine, and set aside.
Next, put the whole dried chile, fresh galangal, lime leaves, and lemongrass into the mortar & pestle. Pound together well, then add shallot, garlic, and shrimp paste. Leave it in the mortar. Heat a wok or large pan to medium heat, and add this mixture from the mortar. Saute it with 1 cup coconut cream. Stir constantly, until all dissolved. Add matsaman curry paste, fish sauce, tamarind, palm sugar, and stir well. Add remaining coconut cream.
Add the sesame seed paste and pounded peanuts (or leave the peanuts out if you prefer) to this mixture and cook over medium/low heat for 10 minutes or so. It should all blend together well.
Method for Ajad
In a small saucepan, mix vinegar, salt and sugar over medium heat. Stir until dissolves, then remove from heat and set to cool. Just before serving, add the cucumber, shallot and sliced chiles to this.
Preparing And Serving Your Pork Satay
Cook the marinated pork
skewers
over charcoal, constantly basting them with the basting liquid. Serve together with the satay sauce, ajad, and for an authentic twist--with sliced toast as shown.
Enjoy!
Heat pounded spices & coconut milk
Baste the marinated skewers of pork
Key ingredients full of flavors
Pounded up now starting to cook
This version made by omitting peanuts
Lovely satay sauce with chicken skewers

Reviews