Sidewalk Guide to Bangkok's Finest Street Vendors - Saochingcha Area
Sidewalk Guide to Bangkok's Finest Street Vendors - Saochingcha Area

This is Part I of our series on where to find the best sidewalk eating shops in Thailand. Also see:
Part II: Thonglor areas best sidewalk shops, and
Part III: Sidewalk eating in Kanchanaburi
Part IV: Tour Bangkok's "Upscale" Or Tor Kor Open Market
Part V: Thai Wedding Food
Part VI: Koh Kred Island: Artisan Thai Food
Part VII: Traditional Fishing Culture in the Gulf of Thailand
Part VIII: Street Scenes, Bangkok
Also see our Thai Street Vendor Video Series
Searching for delicious, freshly-cooked food is inextricably linked to Thai culture, where in any community local people know where to go for the best of a particular specialty. There's a vast free market in the preparation of dishes of all sorts, whether it's a fragrant dessert, barbequed chicken, fish bladder soup, or most anything else. There's a wide range of presentation and price, from the top-notch air-conditioned restaurant, to the shop-house with roll-up doors and open-air kitchen, to the push-cart portable kitchen. Thailand enjoys total freedom in the food economy unlike anything offered in the United States, where strict zoning, taxation and other bureaucratic & enforcement hurdles leave little in the way of flexibility beyond the formal restaurant with separate kitchen behind closed doors.
Although delicious food is enjoyed far and wide throughout Thailand, one district in Bangkok stands out as a food-lover's paradise. When many locals hear the word Saochingcha, one thing comes to mind and that's the delicious food. The Saochingcha neighborhood (and the area two blocks away called Phraeng Phuton) is very easy to find, and for years Thai television and newspapers have done stories about the abundance of perfectly-prepared, clean and sanitary yet affordable "street level" cuisine. Pedestrian Thai food at it's absolute finest, where you'll find clean floors, clean tables and people who have been doing the same dish for 10, 20, even 75 years (read below). At ImportFood.com we offer not only the best Thai groceries and cookware, we also know, and are happy to share with you, where to find one of the the greatest culinary wonders of the world. If you go to Bangkok, get immersed in some of the best local cuisine on the planet. This area has surprisingly missed any mention in some of the glossy New York magazines who do international reports on food in faraway places, including Bangkok; however, we know you'll love this information if you're a Thai food fan.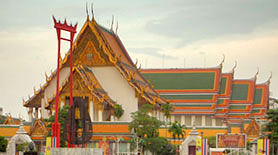 To get to Saochingcha download our free map, then just tell a taxi you want to visit the "Giant Swing" (the tall red monument you see in the photo at left). This is a popular landmark in Bangkok and mentioned on any tourist map. It's centrally located, and fairly close to any hotel you might be staying at, including the low-rent "Backpacker" district of Banglampoo, or Khao-San Road, where budget tourists often stay (though we rarely see backpackers stray into Saochingcha for the food finds, these streets are always full of hungry locals). Once you get to the Giant Swing, look directly at the massive building with the large elephant symbol in the middle, this is the Bangkok City Hall (homebase for your foodie paradise in Bangkok).
To the left of City Hall is the start of Thanon Mahannop. Thanon means "road" in Thai, so this is Mahannop Road. You will see this sign. Before going down Mahannop Road, walk down the sidewalk alongside the left of City Hall. You'll see a noodle shop (picture below left), offering a heavenly homemade meatball soup, a few doors down from the Mahannop sign. The shop is called Shuan Shim, read more about it here. After eating the fabulous noodles served there, keep walking the same direction. Literally every little eatery is good but we highly recommend Tien Song Ped Yang, and a few doors down is Khao Man Gai Chaiyo. Prices will be in the range of US$1-$2 (30-70 baht) per dish, which is slightly higher than the Bangkok average.
After the khao man gai Chaiyo, walk back to Mahannop Road and turn right (away from City Hall). Now the food gets really serious. One after another, every shop offers a superbly-prepared unique specialty. Eat anywhere here, it's all good, but you must not miss the red pork at Niyom Pochana which will be on your right, just a few doors down from the Mahannop sign. Keep walking down the street and look to your left for this lady offering traditional Thai tea and coffee. While coffee in the United States is often better than what you find in Bangkok, she offers a tasty variety of choices. Her shop is always busy, she prepares every drink herself, and there is often a line of people gathered. Notice the laminated Thai-language newspapers on the wall extolling how good the coffee is here. Enjoy watching her prepare it using the Thai method of steeping and pouring.
Continuing down Mahannop, next door to the coffee lady is another clean and fresh noodle and soup heaven. These noodles are simply beyond description. Just taste them and try to put it into words. On the side of the building, this guy has a daily special, prepared in the Chinese way with herbs. He's very nice, and always busy. He makes excellent use of the large pots heated with charcoal, and his gas burner.
Walk all the way down Mahannop (another 3 blocks or so), and every shop will offer something delicious, several have the Shuan Shim certification on their signs. Eat what you want and keep on moving because there are so many delicious stops ahead including Kao Neeo Korpanich. Very well-known among local residents (and in business since 1932), Korpanich offers the paragon of Thai sticky rice with mango. To get there, turn left at the end of Mahannop (you will see this distinctive Chinese temple at the end of the road). After you turn left, you will be on "Tanao Road". On the right side you'll find excellent traditional Thai barbeque chicken at Gai Yang Boran. Walk a bit further down the same side of the street and you'll find Radna 40 Year Recipe, and a few doors down from that is the Thai Donut Duo. Make a quick right turn into the small alley and on your right is Khanom Buang Preang Nara where the family has prepared the same specialty for 100 years.
Proceed about 200 feet, just past the Bangkok Bank branch, and look to your left for Kao Neeo Korpanich where they've specialized in perfecting sticky rice with mango for over 75 years! ImportFood.com is in no way affiliated with any of these shops, and we have absolutely zero vested interest in making these comments. We just know that a trip to Bangkok is not complete without a stroll down Mahannop, and must include a visit to Kao Neeo Korpanich.
Now that you've experienced the curbside Thai food culinary experience of a lifetime, you may not be hungry any longer however the food finds in this neighborhood are by no means exhausted. There is still a lot to experience here in the surrounding shops, all within a short distance.
The area immediately surrounding Kao Neeo Korpanich, notably right in front of the Bangkok Bank branch, is a well-known haven for some of Bangkok's best pushcart evening vendors. There are often throngs of people who line up to buy food here starting at about 6:30 PM and going well into the night. If you come here on any evening you'll be amazed at the quality and flavor offered.
Also within eyesight of Kao Neeo Korpanich is a small road called "Preang Pootorn". As you stand in front of Korpanich looking out, right across the street and slightly to the left, you will see the start of this road. Enter Preang Pootorn and look to your right for "Chotechitr" which specializes in traditional Mee Krob, and jumbo prawns in curry, and believe it or not this place has a 90 year history in the same location!
Keep venturing down Preang Pootorn a short distance, and you'll find Nattaporn Icecream, where the same family has specialized in coconut-flavored icecream for over 60 years. Just a few doors down is Udom Pochana, with curry and stew dishes so tasty they defy words. Continuing the walk down Preang Pootorn, you'll see Samong Moo Shell Shuan Shim, where for over 50 years they've been serving a delicious signature Thai-style pig brain soup. Another delicious shop on Preang Pootorn is Tom Yum Samong Moo, which serves a unique tom yum soup consisting of pig's organs: brain, bladder, heart and penis. Their tomyum also features various home-made fish balls and pork balls, and as a result of the high quality here there are many local customers who are making this a very popular destination for tom yum.
The final part of this Saochingcha Sidewalk Vendor Guide starts back at City Hall. Walk in the opposite direction of Mahannop, to the right of City Hall, where you will see this sign Soi Samran Rat. Directly across from the sign is this shop that sells excellent Pad Kee Mao along with a wide selection of coffee, tea and soft drinks. Proceed down Samran Rat, away from City Hall. If it's in the afternoon, along the way you'll see a few very busy sidewalk restaurants with an emphasis on fresh vegetables. Pull up a chair in any of these places and you won't be disappointed. At the end of Soi Samran Rat, look directly across the street to find "Thip Sammai Thai" which has been mentioned over the years as having the most famous Pad Thai in all of Thailand. That's a debatable point but there's no arguing the fact that it's packed every evening (doesn't open until 4:00 PM) and the Pad Thai is fantastic by any measure. It's a great way to end this tour!
Get the free map!
Also part of this series:
Part II: Thonglor areas best sidewalk shops, and
Part III: Sidewalk eating in Kanchanaburi
Part IV: Tour Bangkok's "Upscale" Or Tor Kor Open Market
Part V: Thai Wedding Food
Part VI: Koh Kred Island: Artisan Thai Food
Part VII: Traditional Fishing Culture in the Gulf of Thailand
Part VIII: Street Scenes, Bangkok
Also see our Thai Street Vendor Video Series
We hope you enjoy this report of Bangkok's finest curbside food finds. Please use the link below to email this report to yourself, or send it to any friends you know who may be going to Bangkok someday--they won't be disappointed!
February 2011 Update
On a visit Saochingcha, we were amazed and delighted to find these two tourists from The Philippines clutching a highlighted printout of our guide! We saw them at Cafe Boran. This was our first time in the area since publishing the free guide in 2008. The lady at Cafe Boran was aware of the map and she said customers had shown her our website. Niyom Pochana said at least once a week he sees someone come in with the map, and he's noticed group tours of foreigners are now coming in. Korpanich told us that every day someone come in with the map to order sticky rice and mango.
We're glad so many people like the information we're sharing about finding great Thai food shops in Bangkok. All of our suggested shops are still there with one exception, the kind man at Khao Man Gai Chaiyo has closed up shop. He is the one who mentioned to us in 2008 that he dreamed of going to California, so if anyone sees him there please let us know!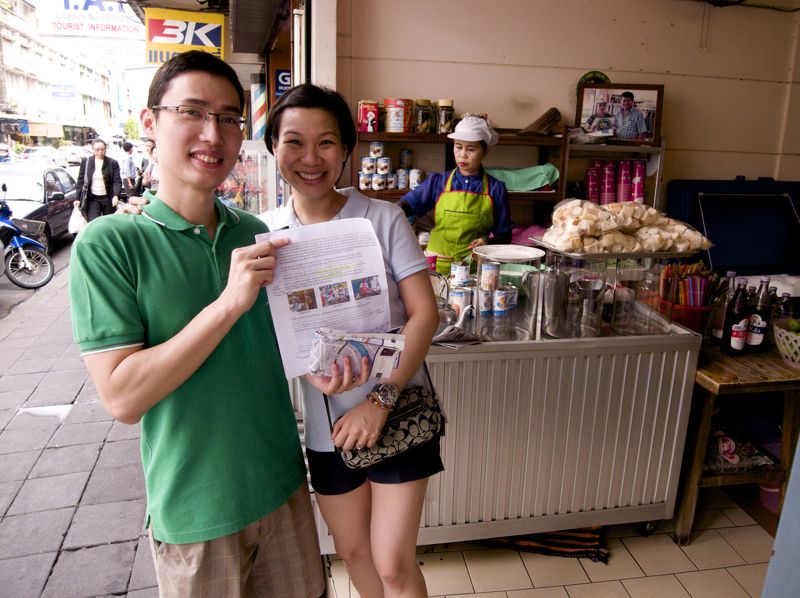 August 2012 Update
The food scene continues to thrive in Saochingcha. In August we received a message from someone named Adrian, who said, "Thanks to you I had some amazing food in BKK. Hope you like the photos."
If you visit Saochingcha with our map, please let us know how you liked it.