Thai Beef Flambe, 'Neua Pad Kimao'

Thai Beef Flambe, 'Neua Pad Kimao'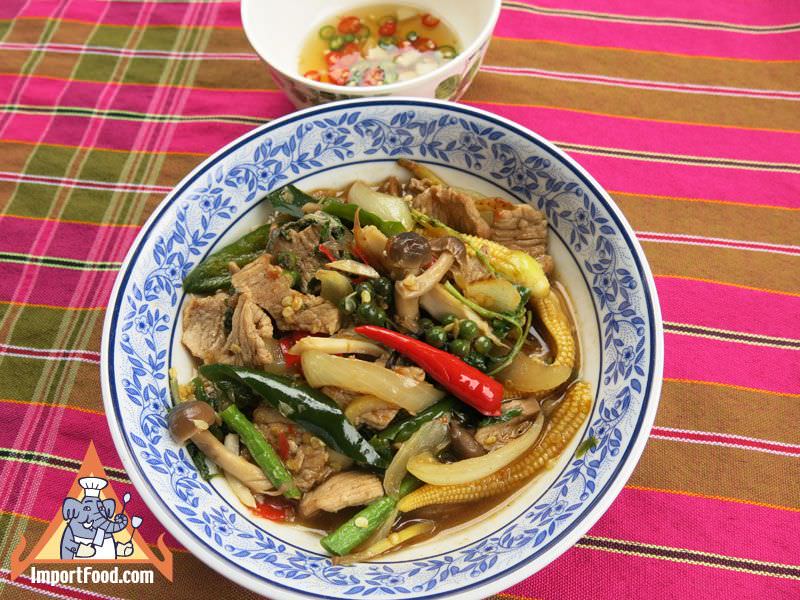 This meal needs to be cooked in very hot oil, and it is deliberately flamed at the end. Because of this we recommend using a wok not a skillet, at least 16 inches in diameter and 6 inches deep, or a saute pan, at least 16" in diameter and 4" deep.
Method for Thai Beef Flambe, 'Neua Pad Kimao'
Method
Place a wok over very high heat and stir fry the ingredients quickly, stirring or shaking the wok vigorously to prevent the meat burning. Add 1 cup of warmed whiskey to the wok and tip it to cause it to ignite. After about 30 seconds if it is still burning place the lid on the wok to kill the flames.
Serving & Storage
Serve with the usual Thai table condiments and Thai jasmine rice. On a cold night the best "wine" to go with this is whiskey (good sippin' whiskey), warmed in the style of sake. On a hot summer night, accompany it with a robust, and well chilled beer.

Reviews