Lao Style Beef Salad, 'Pra Nuea'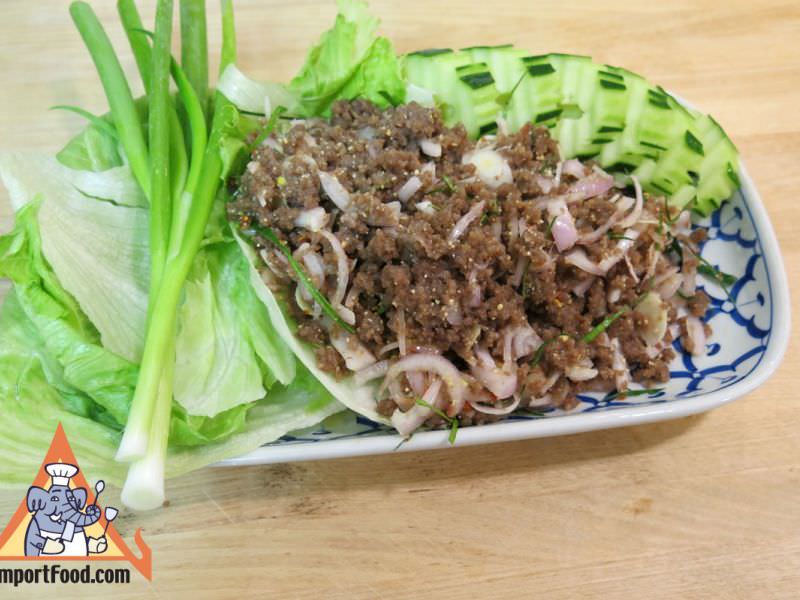 Thai restaurants around the world sell larb (also spelled laab) in various styles, usually with ground chicken "Larb Gai" or pork "Larb Moo". Our Lao version here, made with rare lean ground beef, is exceptional because the meat soaks/cooks in lime juice for several hours then finished briefly in a skillet to give it an especially sour flavor. Combined with the shallots, sliced lemongrass, fish sauce and ground chiles, it all comes together so well. It's very healthy too. You can make this same version with pork, chicken, shrimp or lobster.
Method for Lao Style Beef Salad, 'Pra Nuea'
Place the beef in a bowl, and thoroughly mix with the juice of two fresh limes. Marinate for an hour. Next, knead the meat, squeezing thoroughly to drive out as much blood and other juice as possible. We used a strainer as shown. Return beef to your bowl, add more fresh lime juice, and marinate again for an hour. Knead out the juices again, then add more lime juice and set covered in a cool place to marinate a final time, for an hour.
At this stage you may, if you wish, just serve the meat as it is (very rare, cooked by the lime juice) but we prefer to put in a skillet over low heat and cook for a few minutes.
Place your beef in a clean bowl, and combine it with the other ingredients. Add the chili powder in stages, tasting as you go, to get a spicy result but not too overpowering.
Serve with lettuce leaves, as those make wonderful wraps for the larb, on a platter.
This dish goes best with sticky rice, which can be used as an eating utensil: form a ball of rice and use it to pick up a little of the spiced meat. Serve with the usual Thai table condiments. Enjoy!

Reviews