Panko Shrimpcakes with Chile-Lime Sauce

Panko Shrimpcakes with Chile-Lime Sauce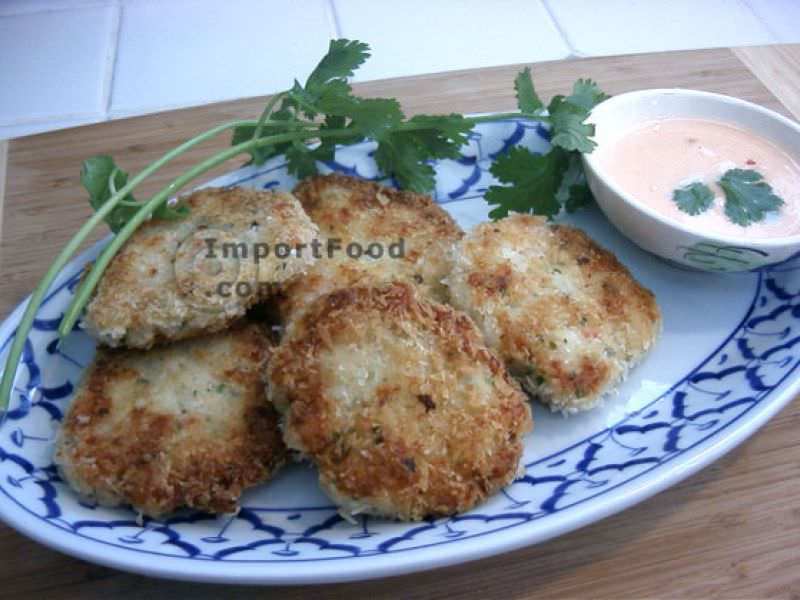 Shrimpcakes are often served in the more upscale Thai/Chinese restaurants in Thailand. We love the flavor of these shrimpcakes. The chile-lime sauce is definitely not a Thai flavor, but it's quite tasty. We think you would enjoy this dish just as much if the shrimpcakes are served with fresh yellow chile sauceand or Mae Ploy sweet chile sauce so the chile-lime sauce is optional. For best results use the largest, best quality shrimp you can find.
Ingredients
For 4 Person(s)
Ingredients for shrimpcakes
16

Uncooked Large Shrimp (about 1 pound), peeled, deveined

1

Large Egg

1

Green Onion, Sliced

2

Tablespoons

Fresh Lemon Juice

1

Tablespoon

Dijon Mustard

1

Tablespoon

Minced Fresh Cilantro

1/2

Teaspoon Sriracha Sauce

1/2

Teaspoon

Salt

Pinch of Ground Black Pepper

2

Cups Panko Breadcrumbs

2

Tablespoons

(or more) Peanut Oil
Ingredients for Chile Lime Sauce
1/4

Cup

Dry White Wine

1/4

Cup

Fresh Lime Juice

1

Tablespoon

Chopped Peeled Fresh Ginger

1

Tablespoon Minced Shallot

1/3

Cup

Whipping Cream

2

Tablespoons Chili-Garlic Sauce
Buy ingredients for this Recipe
Method for Panko Shrimpcakes with Chile-Lime Sauce
Method for preparation of shrimpcakes
Coarsely chop shrimp in processor. Add egg, green onion, lemon juice, mustard, cilantro, sriracha sauce, salt, and pepper. Blend in using on/off turns. Add 1 cup panko and blend in using on/off turns. Form mixture into twelve 3-inch-diameter cakes. Roll cakes in remaining 1 cup panko; transfer to waxed-paper-lined baking sheet. Refrigerate 10 minutes. (Can be made up to 4 hours ahead. Cover and refrigerate.)
Heat 2 tablespoons peanut oil in heavy large skillet over medium-high heat. Working in batches, fry cakes until cooked through and golden brown on both sides, adding more oil to skillet as needed, about 6 minutes.
Method for preparation of chile lime sauce
Combine first 4 ingredients in heavy small saucepan. Boil over high heat until reduced by half, about 3 minutes. Add cream and boil until reduced by half, about 2 minutes. Reduce heat to low. Mix in chili-garlic sauce. Add butter, 1 piece at a time, whisking just until melted before adding next piece.

Reviews