Namprik Ta-Dang, Chili Paste
Namprik Ta-Dang, Chili Paste
Add to cart
Temporarily Out of Stock

Namprik is the original Thai chile paste and it's hard to find in the United States. Most Thai people leaving their country don't go without a few jars of their favorite namprik. We are pleased to offer this extremely high quality authentic Thai namprik ta-dang, from the famous Pantai brand.
Tadang means "red eye" in Thai. This chile paste packs a punch in terms of spicyness and heat level, but it's very well balanced due to salty fish sauce, sweet palm sugar and sour tamarind. Tadang is our favorite. Simply spoon over steamed jasmine rice or use as a dip with fresh vegetables.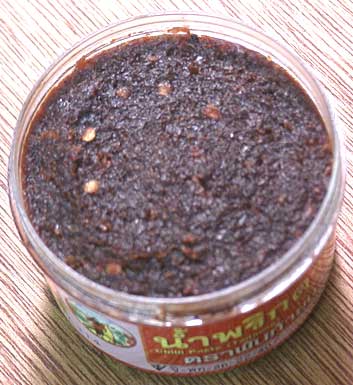 Ingredients: garlic, shallot, palm sugar, dried red chiles, fish sauce, tamarind, msg. Product of Thailand.
We offer the following premium quality Namprik products