Stainless Steel Skimmer, 12", Zebra Thailand
Stainless Steel Skimmer, 12", Zebra Thailand
Add to cart
Temporarily Out of Stock

Our stainless steel, bakelite handle skimmer is a modern design based on the popular Chinese wire skimmer. It also functions well as a slotted spoon, for western-style cooking.
We've never seen anything like it in America, yet it's sure to be one of your most popular utensils.
Use for lifting large quantities of vegetables out of a pot of simmering liquid or removing pasta from boiling water, among other uses. We used it when making Bua Loi dessert.
Made by Zebra of high-quality thick pure stainless steel, the same quality as our popular wok turner.
The handle total length is 12", which keeps your hands away from the heat. The bakelite handle section is 5.5". The round skimmer is bowl-shaped, a nice wide 4.5" (larger than it looks in the photos).
It may seem a bit expensive for a kitchen tool, but given the workmanship and materials we are sure you will not be disappointed.
Made in Thailand.
See our collection of Zebra Thai stainless cookware.
---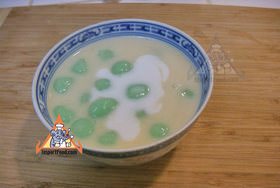 Thai Rice Balls in Warm Coconut Milk, 'Bua Loi'
Usually Thai desserts are served cold, but this one is unique as it is meant to be served warm. We love the consistency of the balls, almost powdery and a bit like Japanese desserts. Usually in Thailand a sweet poached egg that has been cooked in sugar syrup, is spooned onto the top of each serving, but that's optional. A brass wok is used here which is the perfect authentic preparation, as this sweet dessert will always be made using a brass wok if the chef specializes in bua loi.
Here we prepare two different versions, one basic and another similar using pumpkin to create a vivid orange color and rich flavor.
---