Stainless Steel Wok Turner, 16", Zebra brand
Stainless Steel Wok Turner, 16", Zebra brand
Add to cart
$13.65

We also offer this wok turner with a teak handle.
Original Stainless Steel Wok Turner, 16" Long, Best Quality
Our original long-handle wok turner is one of the best selling tools we offer. Many have noticed that the real Thai chef such as shown in our street vendor videos, constantly uses a nice long wok turner with a shovel that comes out at a nice 45 degree angle. Notable video: Seafood Vegetable Stiry Fry.

This indispensible tool is used for measuring, scooping, scraping, turning, serving and more. We've recently found "the best" wok turner--the Rolls Royce of wok turners.
Made by Zebra of high-quality thick pure stainless steel, this really feels solid in your hand. It's such a high quality that you'll have it for generations. The entire length is 16", so your hand stays a safe distance from the wok. The bakelite handle is 5.5", the shovel is 4" wide and has a 3 tablespoon capacity.
The shovel is solidly spot welded onto the handle in a way to ensure that it will never fall apart of feel flimsy. It may seem a bit expensive for a kitchen tool, but given the workmanship and materials we are sure you will not be disappointed.
Product of Thailand.
We also offer a teak handle wok turner.
See our collection of Zebra Thai stainless cookware.
---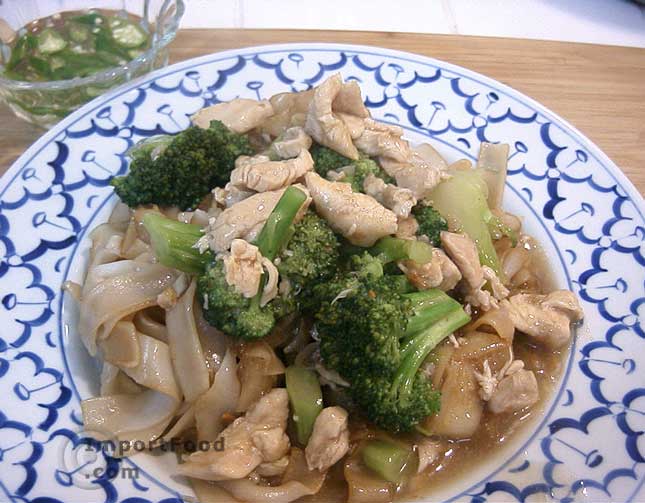 Thai-Style Wide Noodles In Thick Sauce, 'Kuaytiao Lad Na'
Lad Na is prepared in a two-step recipe that involves first frying wide rice noodles until they're just starting to get crispy. Then a sauce is quickly made and poured over the noodles. The translation of Ladna in English is "Pour on the Face".
Lad Na is served all over Thailand, so it can be considered a national Thai dish, see a sidewalk version here that's over 40 years old. It's typically served not spicy, with Thai condiments on the side to "fix the taste" and make it more spicy if that's desired. In Thailand, broccoli or "pak kanaa" is typically used. It's very good with asparagus as well.
---
---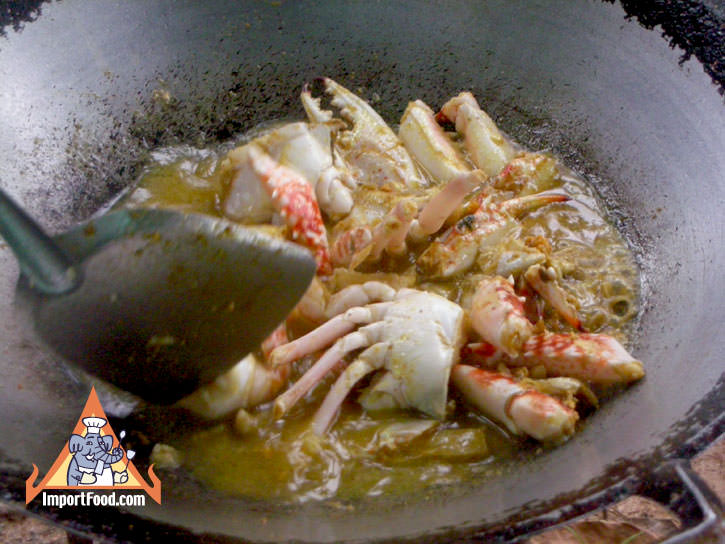 Cracked Crab Thai Curry, 'Bu Pad Pong Kari'
Bu Pad Pong Kari is a simple recipe with a delicious unique flavor that many people in Thailand love so much that it's an addiction. If you like Thai food, and you like crab, you must try it. Just be sure to use good fresh crab, and crack the shells before cooking (as shown in the video at link below). Thai curry powder is the main flavoring, so that must be used. Below left is our video filmed in Thailand of a sidewalk chef preparing this authentic version.
As with any Thai recipe there are many variations. Here is our version which is fairly simple. Using coconut milk instead of fresh milk is another option.
---