Thai Ceramic, big boat, 14"
Thai Ceramic, big boat, 14"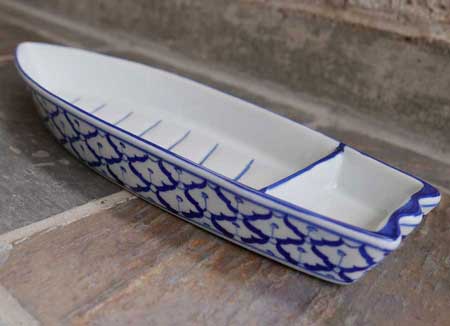 Add to cart
$18.50

Handpainted ceramic 'Big Boat' imported from Thailand, with two separate sections.
Restaurants may put noodles in the front and garnishes in the back, but this can be used to serve all sorts of food. 13" long, 5" wide in center, 1.5" tall.
Painted by hand using a traditional design unique to Thai artisans. Use in microwave or conventional oven, dishwasher-safe. Flawless ceramic is thick and very durable.
Made in Thailand.
---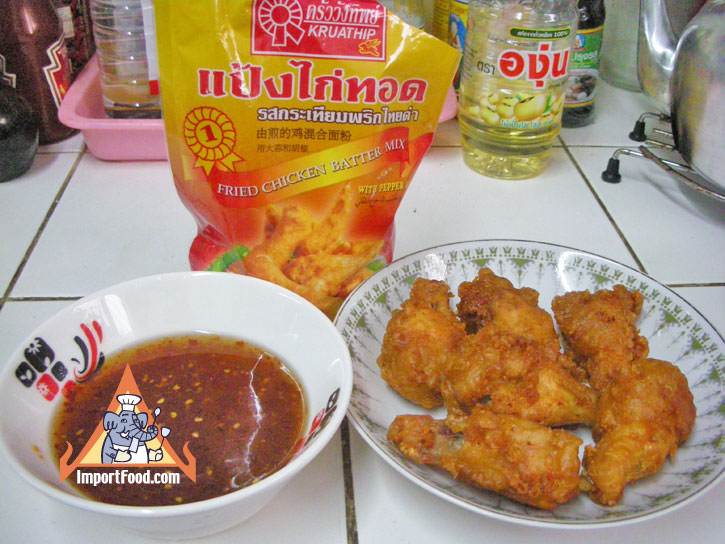 Thai-Style Fried Chicken
Leave it to the Thais to create the best fried chicken in the world. This batter perfectly coats your chicken (or vegetables, as we made fried mushrooms and onions that turned out excellent). Simply mix it with water and sugar (see mix below). You really can't go wrong, and it's just excellent batter. We fried drumsticks and breast slices, then used world-famous Thai sweet chile sauce as a dip.
Serve in our Handpainted Ceramic Big Boat.
We also prepared this with some added spices to create a "Tom Yum" flavor, which is very delicious, see variant method below.
---