Thai Instant Coffee 3 in 1, Birdy
Thai Instant Coffee 3 in 1, Birdy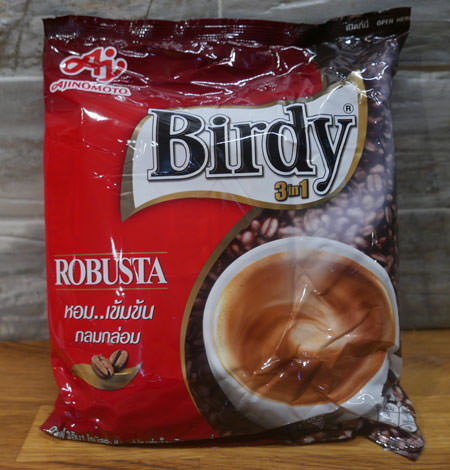 Add to cart
$8.75-27packs

Thai instant coffee that's really nothing special using 'Robusta' beans which are generally considered lower quality than Arabica.
Birdy is just an everyday Thai product at the lower price point but brings back fond memories.
This is a 3-in-1 coffee so there's a bit of sugar and creamer inside but the lead flavor is coffee.
Made in Thailand, where 3-in-1 coffee is extremely popular. Add a packet to one cup of boiling hot water, stir and enjoy.
You get a generous 27 packets (15 gm per packet) in an attractive master bag. Great coffee flavor.
Ingredients: sugar, creamer, coffee powder, silicon dioxide, xanthan gum, silicon dioxide, aspartame, acesulfame potassium.
Product of Thailand.
Also try our Kopiko Brand Instant Coffee
We also offer 3 in 1 Thai tea.